Overview
Kiwetinok Peak
is the most challenging scramble objective along a massive continuous skyline located on the opposing side of the valley from the common alpine mountain objectives known as
the President and Vice President
in Little Yoho Valley, Yoho National Park. Mount McArthur is the most popular of these scramble objectives.
Whereas Mount Pollinger is nothing more than a bump in the ridge between the two, setting up nicely for a three peak scramble day in Yoho National Park.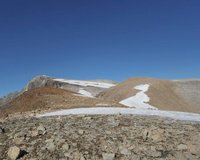 Staging area for the scramble and alpine objectives in this valley is centered around one of the nicer Alpine Club of Canada huts, the
Stanley Mitchell
. Typically hiking tourists/groups can take down the hut almost as exclusively as they do the Elizabeth Parker hut in the Lake O'Hara region and thus I have never actually stayed there. The camp site, just a bit up-stream from the hut, is one of the more pristine campsites in Yoho and would be preferable for most true outdoor enthusiasts.
The Little Yoho Valley collection of scrambles offers one of the better opportunities in the Canadian Rockies for multiple peak bagging via a two day trip.
Mount Kerr
and
Kiwetinok Peak
split a col at the end of the valley where Little Yoho River is fed by the pristine
Kiwetinok Lake
. Kiwetinok Peak starts the north sky line (Kiwetinok is a native term interpreted to mean "on the north side") of the valley to the west. At the east end of Little Yoho Valley is a neat looking geological feature known as
Whaleback Mountain
which drops back down to the main Yoho Valley itself. Along this continuous ridge on the north side of Little Yoho Valley are a multitude of scrambles and one glacier: Kiwetinok Peak, Mount Pollinger, Mount McArthur, Des Poilus Glacier, Isolated Peak and Whaleback Mountain.
A complete traverse of this skyline was done in 1901 by James Outram and is the route I recommend to bag these objectives, but it would require glacier gear/travel.
Unfortunately I had not studied this skyline on the map much prior to going for these objectives or I for sure would have attempted this traverse in one day car to car with the appropriate gear and start time.
With no map, we simply followed Kane's scramble guide suggestions and climbed Kiwetinok Peak, Mount Pollinger and Mount McArthur one day, descended back to camp from the Pollinger-McArthur col and re-ascended the next day to summit Isolated Peak and continue back to Yoho Valley up and over Whaleback Mountain. Therefore, the only part of the Outram Traverse we missed was the quick and short glacier stretch between Mount McArthur and Isolated Peak. It would have been much better on the body and spirit (in my opinion) to have completed the Outram Traverse in one long day, in reverse, traversing the glacier from Mount McArthur to ascend Isolated Peak, descend via the glacier and finish out Whaleback Mountain into Yoho Valley or bivy at the upper west shoulder of Isolated Peak if one wanted to plan for a bivy and thus a more casual two day trip.
The complete descent back to the camp ground from the Pollinger and McArthur col was the worst section of the trip, and only necessary to avoid the glacier travel.
It was not until I descended the col between McArthur and Pollinger that I appreciated how Mount Pollinger became considered a separate peak. A broad and massive ridge form the summit of Mount Pollinger extends down into Little Yoho Valley. Joseph Pollinger was a Swiss guide in the Canadian Rockies around the turn of the 20th century.
Getting There
The Trans-Canada Highway runs from Calgary through Banff and Yoho National Parks on its way to Vancouver. Pass through Lake Louise heading westbound and continue on the Trans-Canada entering British Columbia. Take a right on the Yoho Valley Road right before Field. Drive to the end of the road and park at
Takakkaw Falls (1247')
, the second tallest waterfall in western Canada. The visitor center for Yoho National Park is located in Field another kilometer or two west on the TransCanada.
Red Tape
You will be required to purchase a national park pass as you enter Banff National Park coming from the east on the Trans-Canada. This pass is good for all four national parks. If you plan many visits to Canadian National Parks within one year, you should purchase an annual pass. There are no permit requirements to climb in Yoho National Park, but all camping is regulated. There is also a backcountry permit required if you plan on spending a night in the backcountry versus the town campsites. This can be obtained via the parks website which is included in the camping section below. Yoho National Park headquarters are located in Field, BC and you will drive through the manned national park kiosks as you enter Banff National Park on the Trans-Canada.
This is active grizzly country, therefore I advise checking with Parks Canada for any area and/or trail closures.
When to Climb
As with most scrambles in the Canadian Rockies, the driest time is from June through September. We climbed these peaks in September in excellent condition.
Camping
The closest conventional camp sites would be the Kicking Horse and/or Monarch campground(s) back east at the turnoff for Yoho Valley Road.
The closest backcountry site is Yoho #6 just west of the Stanley Mitchell Hut.
This is a great camp site for this scramble and many others in Little Yoho. It is below the headwall to Kiwetinok Lake at about 6650'. Of course you can make reservations at the Stanley Mitchell Hut as well.
You can go on line at Yoho National Park's website to pick a camp site and obtain your camping permit. You will also be required to obtain your backcountry permit which is separate, but can be obtained simultaneously if you plan on camping at a backcountry site like Yoho #6.
External Links
Yoho National Park
trail conditions or closures, wildlife notices/closures, weather conditions, camping permits, etc.