Overview/Route(s)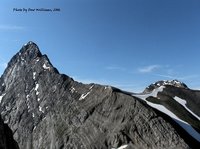 Mount Smuts is part of the Spray Mountain Range that begins at the south end of Spray Lakes Reservoir (photo) with
Mount Shark
and ends at
Mount Indefatigable
to the north of Upper Kananaskis Lake. Other objectives within the range include
The Fist
,
Mount Burstall
,
Mount Murray
,
Mount Black Prince
and
Mount Warspite
. I have been on all of these objectives. Mount Smuts summit is actually a boundary point for
Kananaskis Country
, Peter Lougheed Provincial Park and
Banff National Park
.
Kananaskis Country
is a maze of provincial parks which encompasses over 4,000 square kilometers of foothills and mountains bordering Banff National Park to the east and south in the central Canadian Rockies. Peter Lougheed Provincial Park is a separate 500 square kilometer provincial park that borders Kananaskis to the south.
The most memorable aspect of this climb for me in July, 2006 would have to be the 12 moose I encountered this day, 10 on the way and 2 on my bike out.
Mount Smuts' first ascent was made in 1926 by a small group guided by Rudolph Aemmer. Mount Smuts was named in 1918 after Jan Smuts, a field General for the British in WWI thus in keeping with similarly named peaks in Kananaskis. He was also instrumental in establishing the League of Nations, helped author the Preamble of the United States, founder of the modern systems theory, coined the word "holistic" (one of my favorites!), was an expert on grasses, the Prime Minister of South Africa, as well as someone who showed keen interest in the mountains of his homeland, South Africa.
The only published route on Mount Smuts is the difficult rated scramble in Alan Kane's "Scrambles of the Canadian Rockies" guide book.
Alan states in his book that Mount Smuts might be the most difficult scramble he has listed.
I do not necessarily concur as I found the climb straight forward compared to several of his other difficult rated scrambles, but if you search the internet,
you will find several who classify this scramble as an Alpine lower 5th class rated climb.
The Commonwealth Creek approach is a common backcountry ski playground in the winter. I have skied both the Smuts-Fist Col as well as the Pigs Tail slopes across the valley (photos). The Smuts-Fist Col was the site of a tragic backcountry ski accident in February of 2006 resulting in the death of an experienced local skier. Remnants of the skier triggered 3.5 dry slab, 1000'+ wide avalanche were quite evident during the summer of 2006 as I made my approach into Mount Smuts among the debris. This event was a failure going down to the October rain crust. I set off a
similar sized event
just weeks later, one valley over.
Van Belliveau, a local climber, fell to his death from the summit of Mount Smuts itself during the summer of 2005.
There are no viable ski routes to the summit of Mount Smuts and although there is an optional north ridge descent, it would not make for a worthy ascent by any means.
The views from the summit of Mount Smuts rival any in Kananaskis Country. Mount Smuts is perfectly situated among the three giants of the region,
Mount Sir Douglas
,
Mount Assiniboine
and
Mount Joffre
. In fact the popular routes for all three of these mountains are in clear view from the summit of Mount Smuts. Mount Smuts shares Cols with
The Fist
and
Mount Birdwood
.
Getting There
From the Canmore Nordic Center, drive 36 km south on the Spray Lakes Road (gravel or in winter, snow laden, maybe not even plowed depending how early you are getting started). Turn right at signs for the Mount Shark Cross Country and Biathlon Range, Mount Shark Helipad and
Engadine Lodge
. Cross a bridge and turn left on the first logging road you come to. Park here and bike in to Commonwealth Creek on an old logging road that forks to the right on a trail before you arrive at the creek. Watch for hazardous rock or snow fall on the switchbacks above Canmore. I observed 10 female moose in the mud flats west of Engadine Lodge and 2 bull moose (almost ran into) on the bike approach this particular day. This is one of the most popular locations for moose in all of the Canadian Rockies. Keep your eyes open.
Red Tape
There are no permit requirements to enter, climb and/or park in
Kananaskis Country
. This is active grizzly country however. Take bear spray during non-hibernation months. This is avalanche terrain during the winter. Therefore it would be prudent to check recent notices posted on the park's website regarding that issue. The park headquarters is actually located on Highway 40 (Kananaskis Trail) several kilometers south of the Trans-Canada. Notices are posted outside if they are closed. This is a solid information center with good staff and beta and is open all year.
Camping
There are campsites galore in the Kananaskis Lakes complex, backcountry and camper sites. You cannot camp outside of the marked specific camping areas in Kananaskis. Refer to the
Kananaskis Provincial Park website
for more information regarding camping and/or lodging.
Engadine Lodge
obviously offers premium lodging for the area as well.
When to Climb
As with most climbs in the Canadian Rockies, the driest time for scrambles is from June through September.
Mount Smuts is a difficult and slabby climb, therefore, it would be prudent to climb the route dry.
The safest descent is on the northwest side of the mountain and needs to be free of snow in order to descend a steep chimney.
On July 5, 2006, the route was in perfect condition with leftover snow in all the right places for a fast descent.
Climbing Sequence
Mountain Conditions
The
Kananaskis Provincial Park website
is a very thorough park website, including trail conditions or closures, wildlife notices, weather conditions, avalanche conditions, camping permits, whitewater conditions, etc. It is an excellent source if you are going to spend any time here and comparable to any National Park website I have used. Outside of the parks web site,
Canadian Avalanche Association
is also useful, particularly for winter travel.
Canadian Alpine Accident Reports
are also extremely useful and feature several reports relating to Mount Smuts including a fatality last summer (2005).