Overview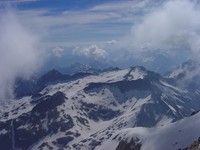 The
Tuc de Mulleres
(3014m) is the most eastern peak of Maladeta's massif. Because the normal route is a simple walk-up, it's one of the most frequented peaks of the area, and a marvellous watchtower of the North-East of the Massif, especially of the ridge of Salenques and the big Aneto (3404m) with its glacier. The normal route is easy but long, usually more than 4h to the summit, across the beautiful Forau de Aigualluts, one of the places most interesting of the zone. The Forau is the hole where's born the river Garonne from the Aneto's glacier. It exist another route from tunnel de Vielha with the same dificulty.
The peak has two normal routes, from La Besurta and from Tunnel of Vielha. The easier access from Benasque to La Besurta and the visit to the beautiful Forau d'Aigualluts makes this route as most frequented.
As curiosity the name is translated as Women's peak.
Getting There
Approach to
Benasque
from Huesca: in the road on direction to Barbastro (N-240). After Barbastro you'll follow the indication to valley of Benasque to the C-1311 to Graus and the C-139 to Benasque across the beautiful gorge of Congosto de Ventanillo.
-
La Besurta (1890m)
: the entry of North of Maladeta Massif is the same of normal route of Aneto across Refuge La Renclusa. La Besurta is easy of reach from Benasque following to Hospital de Benasque and taking the road signalled at right side before the descent to Hospital.
Red Tape
It's located in the Natural Park of Posets-Maladeta with rules about conservation.
Very important note: the road of La Besurta is closed in winter and early in the spring (it's the pist of sky-cross county with snow). From june it's opened. From july to september you can't access with your car and you must pay the bus to la Besurta.
Camping
Camping is not allowed, it's forbidden in the natural park of Posets-Maladeta. The night in La Besurta is a good option sleeping in the vehicle but you can't camp with tent or vivac.
-The camping is permited in Pla de Senarta (Ayuntamiento de Benasque, a little tax of 3-4 €).
-
Camping Aneto
.
-
Camping Ixeia
.
-The
refuge of La Renclusa
is a good option, specially in spring with the road closed (1h45min of walk to the refuge but from La Besurta with the road opened it's only a easy walk of 40 minutes).
-Lodge and Hotels in village of Benasque.
External Links
Mendikat.net
: great description of routes in spanish.