Overview
There are already 6 Eagle Peaks, 2 Eagle Mountains, an Eagle Crag, Eagle Rock, Eagle Rest Peak and Eagle Scout Peak listed in the SP California mountain/rock pages alone. I doubt if that accounts for all of them statewide. Now nation wide......?? Go figure.
Personally I've never seen an eagle or an Eagle fan on or around any peaks in 21 years of hiking California mountains.
This brings us to none other than Eagle Peak in
Mt. Diablo
State Park 2 miles northwest of Mt. Diablo's main summit. This is a nice hike that can be a few hours or incorporated into a larger loop on the many fine trails that cut through the steep slopes and dense chaparral that covers much of the north side of the Mt. Diablo massif. There are sweeping views of the north and east bay and an arresting view of Diablo's north and main peaks from the flat ridgeline summit.
Getting There
Mitchell Canyon
: Take the Mitchell Canyon Road off of Clayton Road in the town of Clayton and drive to the end. There is a ranger station there and a parking fee is required. el. 700'.
Take the trail .01 miles and go right on the
Mitchell Rock Trail
. which climbs to Twin Peaks at 1,700'. The trail goes south along the ridge a short distance until it meets the Eagle Peak Trail junction. Continue on south on the Eagle Peak Trail to the summit. You can also take the Eagle Peak trail from the Mitchell trailhead by continuing straight to Back Creek Road and following the directions to the Eagle Peak Trail described below.
Regency Road
: Take Regency road off Marsh Creek Road in the town of Clayton and drive to the end with free parking. el. 500'.
Take the Back Creek Road trail southwest over the rolling hillside, down into the ravine of Back Creek and then back up northwest a short distance to the Back Creek Road (Trail) going south. Go south a few 10ths of a mile and go right on the Coulture Pine Trail. Take an immediate left on the
Eagle Peak Trail
and follow it as it climbs the west side of the canyon to the ridge at 1,700'. Go left and follow the trail to the summit.
Red Tape
There are no fees to day hike in Mt. Diablo State Park.
This hike can get very hot in late spring or summer. Be sure to wear sun screen and bring more than enough water.
Camping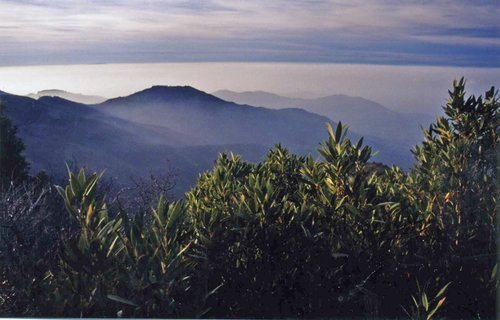 There are designated campgrounds in Mt. Diablo State Park. Reservations and fees and required. For campground info
click here
.
Current weather for Mt. Diablo State Park
For the 10-day weather forecast
click here.