Overview
If you look to the North in clear day from Svanetian town Mestia, the perfect snow wight pyramid dominates the skyline. That is Mount Tetnuld, one of the most significant Svanetian summits, standing right in front of the famous Shkhara, facing it form the South side. The mountain is told to be Svanetian bride, as Ushba is its bridegroom. The name "Tetnuld" or "Tetnuldi" translates from Svanetian as Wightheared or Blond Mountain, and this name fits very well to the mountain which top has no one black rock spot - it is purely ice and snow. By its height the mountain stands in one row with such giants as Ushba, Skhara, Djangi, Koshtan and Dykhtau. Tetnuld is very well known among Georgian/Russian climbers, but due to its remote location this mountain is climbed undeservedly very seldom. Tetnuld offers very interesting iceclimbing possibilities, the normal route to its top is one of the most aesthetic in the area with overwhelming views of Shkhara and all the Bezengi massif as well as all the main Caucasus and Svanetian mountain ranges.
First climbers
Tetnuld by South-East ridge, Russian 2B (D. Freshfeald, M. Devuassou, Y Desayu, M. Deshi), 1887
Tetnuld by North Ridge, Russian 3B, (Y. Shintlmeister, K. Moldan, K. Poishenger, K. Frank, Austria), August, 13, 1931
Tetnuld by North Face, Russian 5B (V. Buzhek, Ch. Voichik, P. Prerost), Czechoslovakia, August, 11, 1966
Getting There
The access to the base of Tetnuld is not an easy one. Mountain is so rarely visited that there are no trails nor marked waypoints. The normal route is very logical but to get to its beginning is an adventure.
From Tbilisi get a car or regular bus to Mestia (8-12 hours). From Mestia take a 4x4 car and by a terrible road (or even the slight trace of it) drive to nearly abandoned Adyshi village - one of the most picturesque and authentic places in the area. From the village take a trail uphill and by slight cows trek climb the grass slopes on the left side of the valley. At the base of a big moraine there is a nice bivouac place, with clean stream water (3-5 hours from Adyshi village). From this place it is 4 hours balancing the big rocks of moraine to the Base Camp on the Tetnuld pass (3600 m) - the place normally used for the last camp.
Red Tape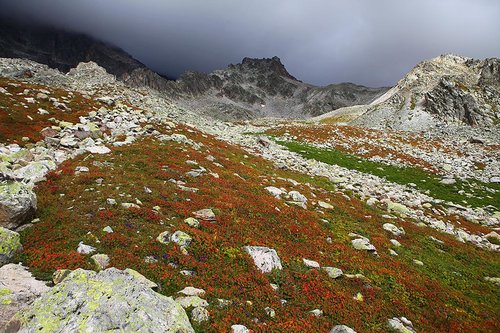 No fees, no restrictions, no permits. On the other hand there is no rescue in the area, no signs or waymarks, use your GPS and be very careful with route finding. Please respect the virgin purity of this mountains and leave no trace of your visit behind you.
Camping
First comfortable camping place is at the base of a big moraine mentioned before, then some flat places can be found on the small pass at 3300, lots of bivouacs at 3600, the last bivouac is possible right below the summit ridge at 4300.
External Links
Information on the organized commercial tours and technical climbs in Caucasus (Elbrus, Kazbek, Ushba, Layla, Shkhara, Koshtan, Tetnuld and Dykh-Tau) you can find
here
Information requests about climbing in Georgia and guided climbs of Tetnuld -
here