Overview
High above the northeast shore of Buttle Lake roughly in the centre of Vancouver Island, BC is an 8 km long height of land known as Rodger's Ridge. At 1,756 metres, the friendly rounded summit of Mt Beadnell is the high point along the ridge as it winds its way from
Lupin Mountain
in the north to its terminus at the 1,869 metres summit of
Mt Adrian
in the south.
Access to this open and scenic area is very easy via high industrial roads and it is a popular destination for hikers, skiers and, somewhat unfortunately, snowmobilers in the winter season. Visitors frequently travel beyond Mt Beadnell to Mt Adrian and it's even possible to continue across the drainage and on to
Alexandra Peak
by this route – although not as a day trip.
If the weather is clear the views across the lake to the north and west are breathtaking with the mountains of the Cervus/Wolf divide particularly prominent. From many aspects, including from Mt Adrian and Alexandra Peak, these mountains tend to blend into the foreground with the better known high peaks of Strathcona Provincial Park,
Mt McBride
, Rambler Peak, Mt Colonel Foster and
Elkhorn
for example, dominating the view. This is not the case from Rodger's Ridge.
Views are certainly not confined to those across the lake and also extend both south into the Park as well as east to that coast of the Island and to the mainland.
Although close to
Strathcona Provincial Park and in common with Adrian and Alexandra, Mt Beadnell sits entirely on private land owned by the Timberwest Corporation. Logging reaches far up all accessible sides of the ridge and stops only when the limit of practicality is reached. As a result of this, access is convenient but may sometimes be an issue. Refer to the "Getting There" and "Approach" sections below.
To date I have been unable to discover the origins of the names "Beadnell" nor "Rodger's".
Getting There
Vancouver Island can be reached directly by air from Toronto, Vancouver, Seattle, Calgary, Edmonton and recently from San Francisco to either Victoria, Nanaimo, Comox or Campbell River and by ferry from Port Angeles to Victoria on
The Coho and on
BC Ferries from Vancouver to Victoria or Nanaimo. Public transport on the Island is notoriously poor and anyone arriving by air would be advised to rent a car.
The approaches to Mt Beadnell require you to negotiate steep, narrow industrial roads that have or are being used to log the surrounding mountainsides. However, this particular approach via Granite Road is mostly on main line with no cross ditches and can probably be safely negotiated with a normal passenger sedan if you don't mind beating it up a little.
Closed gates and/or limited hours of access are frequent occurrences on Vancouver Island. This is unlikely to be the case in the present example but, just to be sure, before you go contact
Timberwest
in order to determine the best plan of attack and current conditions.
Approach
Approach the mountain from the south on the Inland Island Highway 19.
From Campbell River at the end of the freeway section of Highway 19 take highway 28 west towards Gold River. Drive for 17 km from the silver bridge at the junction of highways 19 and 28 and find the Quinsam Mine road on the left.
After 3.3 km bear right and leave the road to the mine on Argonaut Main.
Drive a further 16 km southwest past Quinsam Lake to the junction of Argonaut Main with Granite Main and turn left. The onward route is straightforward and the most travelled road is the one to follow at any junctions.
-At N49 51.025 W125 32.881 keep left
-At N49 49.545 W125 31.867 bear left
-At N49 48.584 W125 32.243 at a prominent junction keep right for the small lake and the north part of Rodger's Ridge or left to get as close as you can to Beadnell Lake
-If travelling to Beadnell Lake drive 1.2 km and turn right up a rough spur at N49 48.311 W125 31.748. 4WD may be necessary from this point. I'm not aware of a trailhead but this road does approach to within 200 metres of the lake shore. Try starting from N49 48.111 W125 31.779, about 300 metres up the spur.
-If travelling via the small lake proceed 2 km from the junction to N49 48.150 W125 33.257 and find a spur on the left. As of May 2015 this spur is no longer driveable. Walk up 150 metres to N49 48.095 W125 33.343 and find an obvious use path and a flat spot for one or two tents.
Summit Route
Although Mt Beadnell can be approached from the north via Beadnell Lake, this description will concentrate on the well travelled route to Rodger's Ridge from the unnamed small lake under the south aspect of Lupin Mountain. Refer to the approach directions above for details.
Start from the well used and obvious trailhead at to N49 48.095 W125 33.343 the end of the short spur off the right branch of upper Granite Main.
Follow the use path west through the old logging slash and enter the forest above. You will immediately come across the red markers placed by snowmobilers high on trees and VERY obvious signs of their passage in the form of a wide swath of cut trees and bushes. Head south up the path to a lovely series of sub alpine meadows and tarns in no more than 10-15 minutes from where you entered the trees.
From the area of tarns you can see the crest of Rodger's Ridge above you to the south. Either head directly up or traverse off to the southwest towards a low point on the ridge following flagging and the occasional boot path. Aim for the neighborhood of N49 47.478 W125 33.673 where you will find another open tarn filled area. The route up
Lupin Mountain
also starts from this vicinity.
Continue up but swing round now to the southeast. After 500-600 metres on this new heading you will emerge from the last big trees and out onto an alpine bench below and to the west of the crest of Rodger's Ridge. In this vicinity also, keep your eyes open for the snowmobilers' "Rodger's Ridge Cabin" in the trees under the ridge.
I'm not too sure of the legal status of this well founded structure or if the land owners even know about it. Whatever the case, it's well set up with a wood stove, tables and chairs and emergency food and medical supplies. And whatever else I think about the dubiousness of the whole business of motorized activities in what should be a pristine alpine setting, you have to give these guys credit for leaving the cabin unlocked for all to use – especially should an emergency arise.
Continuing southeast from the cabin site, the route crosses a shoulder. Once on the shoulder you should be in the neighbourhood of N49 46.974 W125 33.169. Turn left (northeast) and take any convenient line up to the ridge crest.
There are a number of candidates for the true high point. My entry in the sweepstakes lies 200 metres further along the ridge to the southeast with views mostly in that direction, particularly to the stunning tarn filled cirque below. Walk back over to the west edge of the ridge (where there are also lots of cairns) for those views of Mt McBride and the mountains along the Cervus/Wolf divide.
Return to your vehicle the way you came up or down to Beadnall Lake via the spur ridge to the east, or on to Mt Adrian or even Alexandra Peak. Refer to those mountains' individual descriptions. Rodger's Ridge offers lots of possibilities.
Route summary to Mt Beadnell and return:
Distance: ~ 7 km
Net elevation gain: ~ 550 metres
Total elevation gain: ~ 600 metres
Approximate time: ~ 4-5 hours return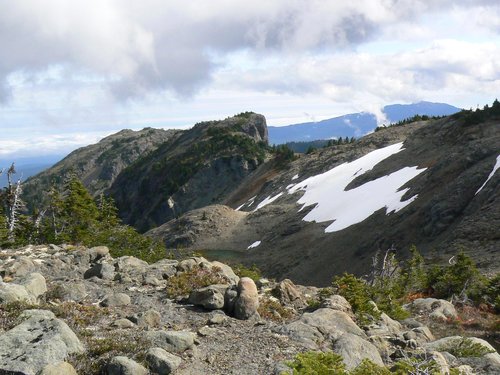 As always a Garmin/Mapsource tracklog is available for the approach and route on Mt Beadnell. As a general rule I don't make routes universally available as GPX files but just ask for it via an email or PM
Red Tape/Safety Considerations
Although there are no fees to pay or forms to fill in, a pre-trip conversation with Timberwest regarding access might be in order.
As of October 2010, the current situation is as follows:
Argonaut/Granite Main. No restrictions that I know of currently in place.
The summit of Mt Beadnell looks right over to the towns along the east coast and consequently we enjoyed full cellular service (Telus) from there.
This is private land and there's nothing in the way of an intentions system. Make sure, therefore, that you have left a detailed trip plan with someone responsible. The RCMP and the appropriate SAR agency will respond in an emergency but it is up to you to have the mechanism in place that will initiate the call-out process if it becomes necessary.
Camping
I know of no restrictions on camping along the length of Rodger's Ridge, although most who undertake this route do so as part of a day trip.
Weather
Nearest point forecasts:
East
West
Useful Links
For more information refer to
Island Alpine
– A Guide to The Mountains of Strathcona Park and Vancouver Island, Philip Stone, Wild Isle Publications, 2003, ISBN 0-9680766-5-3
For general backroad information and directions get hold of a copy of
Backroad Mapbook. Volume III: Vancouver Island
Don't go on any Island trip without checking out Lindsay Elms excellent
Beyond Nootka website.
Summit Panorama
Page Visitor Statistics
style="display:block"
data-ad-format="autorelaxed"
data-ad-client="ca-pub-6523272176520096"
data-ad-slot="7132222476">