Overview
Mt Elma is a mostly forested mountain overlooking Croteau and Lady Lakes to the east and Lake Helen McKenzie to the north and is found in the eastern -
"Forbidden Plateau"
- sector of
Strathcona Provincial Park
, Vancouver Island.
Elma is one of the closest of the Plateau mountains to BC Parks' Paradise Meadows trailhead and is a familiar sight to the thousands of skiers who visit Mt Washington Alpine Resort every year. Ask them about it, however, and they probably couldn't even tell you its name.
Unheralded and mostly overlooked Elma receives few visitors and those that do come usually visit in winter on skis or snowshoes when the bush and deadfall is covered and the going less obstructed. There's nothing in the way of a trail and even less in terms of route details. In summer this is strictly an unmarked bushwhack.
The summit of Elma is a flat open plateau about 500 metres x 200 metres that just about pokes its nose into the high alpine zone. Views – at least in summer – are limited and there is no well defined high point or cairn that I could find. Honestly said, a visit to Elma is really just about ticking it off.
Mt Elma is named for the wife of Theed Pearse, alderman and then mayor of Courtenay for many years in the 1920's and 1930's. Following retirement in 1941, Pearse devoted himself to an extensive ornithological study of the area and became its foremost expert. Elma died in 1969 and Theed in 1971 just 5 months short of his 100th birthday.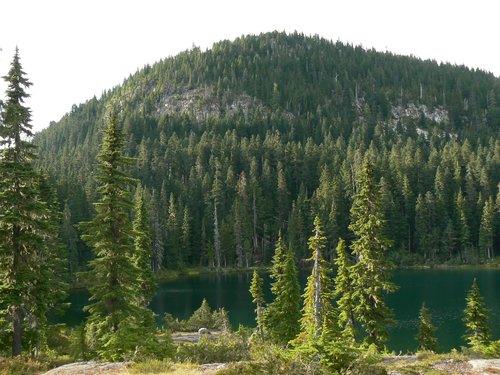 Getting There
Vancouver Island can be reached directly by air from Toronto, Vancouver, Seattle, Calgary, Edmonton and recently from San Francisco to either Victoria, Nanaimo, Comox or Campbell River and by ferry from Port Angeles to Victoria on
The Coho and on
BC Ferries from Vancouver to Victoria or Nanaimo. Public transport on the Island is notoriously poor and anyone arriving by air would be advised to rent a car. Access in this case is all on paved roads and, therefore, fine with a normal sedan.
Approach from north or south on the inland Island Highway 19. Near Courtenay take the Strathcona Parkway exit west to Mount Washington Alpine Resort. Drive up 20km and just before reaching the resort make a left turn onto Henry Road, following Parks signs for Paradise Meadows. Pass the bottom of the ski lifts after 1.5km and drive a further 0.5km to the end of the paved road at the cross-country facility Raven Lodge.
Parks have established a new trailhead and information booth right beside the lodge. If you get back from your trip before 5.30 pm, the Raven Lodge has a lovely view over to the mountains and is a great place for an end of hike libation.
Approach and Routes
Head out from the Paradise Meadows trailhead across the groomed trail and boardwalk onto Paradise Meadows. Reference to
this map
illustrates the route to Lake Helen Mackenzie. Easy trail takes you to the north shore of the lake in about 45 minutes. Go right at the trail junction and proceed on rather less well maintained trail around the west side of the lake and up the pass between Mt Brooks to the west and Elma to the east.



Alternatively, if you're travelling from the direction of Hairtrigger Lake, turn right (east) at N49 42.466 W125 20.005 just below the south side of the pass and walk 150 metres across a knoll to join the route above at the top of the open draw.

As mentioned above, views are limited. Walk to the north end of the plateau to see the ski runs on Mt Washington. However, you have to descend a fair way down to the north and south to see Lakes Helen McKenzie and Croteau respectively.
A combined hike taking in Elma and neighbouring
Mt Allan Brooks
makes a good day trip. The route down the south ridge of Brooks joins the main trail at N49 42.456 W125 20.047, just 50 metres from the waypoint at N49 42.466 W125 20.005.
As always a MapSource/Garmin tracklog is available for the asking for the approach and summit routes. Just send me an email or PM.
Red tape/Safety etc
If, for some reason, you decide to camp on this trip there is a $5/person/day fee for any of the sites in the so-called core-areas of Strathcona Park. There is a self-registration box and payment slot at every core designated trailhead. Payment can be by cash or cheque. Fill in the payment form before you leave and take the receipt slip with you.
With Mt Washington just 3 kms away, there is cellular coverage just about anywhere on Mt Elma from which you can see the ski runs.
Camping
In core-areas of Strathcona you must camp in designated areas only and the nearest approved campsite for Mt Elma is at the east end of the north shore of Lake Helen McKenzie or, perhaps, at Kwai Lake.
Note that fires are strictly prohibited, so you must pack a stove. Bear and cougar frequent the mountains and forests of Vancouver Island, so proper back country methods – isolating food bags, cleaning up all cooking scraps, good toilet practice etc – are essential. All of Parks' designated core area campsites are now equipped with metal box food caches. Giardia is well documented throughout Strathcona Park, so boil or treat all water.
Useful Links
Strathcona Provincial Park
Additional Information/Suggested Reading
Island Alpine – A Guide to The Mountains of Strathcona Park and Vancouver Island, Philip Stone, Wild Isle Publications, 2003, ISBN 0-9680766-5-3 and/or visit
Island Alpine Climbing Guide