Overview
Mt. Mills is located southeast of Big Soldier Mountain and just north of Lost Lake in the Salmon River Mountain range within the boundaries of the Frank Church River of No Return Wilderness.
It is a fun and rewarding hike along a very nice trail that is surrounded by small lakes, creeks, and dense forest. You will encounter a fair number of people on this trail and in the campground, which is surprising considering the area is not easy to get to.
From the trailhead to the summit via the route described here, this climb is about 2100' of gain and an 8.5 mile round trip. Expect around 4-6 hours.
This area gets lots of snow, and the road is not plowed off of the highway, so this trip is only practical after the snow melts or before it falls.
Getting There
From Stanley, Idaho, travel northwest on Hwy 21 and travel 18 miles until you see the turn off for Cape Horn/Soldier Lakes area. Turn right onto the gravel road and follow the signs to Vanity Summit and Josesphus Lake. You will travel a total of 21 miles from the highway before you reach the small campground at Josephus Lake.
After you descend from Vanity Summit, the road gets very narrow and rough. It is not necessary to have 4-wheel drive, but it would be most helpful.
The signs on the road are very helpful, just follow and trust as you follow the various waterways. Eventually, you head up Float Creek. Once you arrive at Josephus Lake there is a small campground that has about five camping spots. The trailhead is located in the campground, and it takes you to a beautiful 16 mile backpacking loop named the Blue Bunch Trail through the Soldier Lakes area.
Route
You will start at the trailhead of the Blue Bunch Trail and follow it toward Helldiver Lake until you get the junction named Beaver Cr-Greyhound Trail.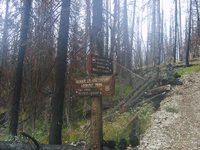 Stay left on this on this trail until you reach a small lake at about 8250'. At the lake, go left of the obvious campsite and you should see the trail steepen and start to climb upwards to the saddle that connects Mt Mills and the unnamed peak to its west. It's about a 400 ft ascent from the lake to the saddle. Up to the saddle this is all Class 1.
It's another 400 ft of Class 2 from the saddle until you reach the summit.
Camping
The trailhead is located in Josephus Lake campground. There are five camp spots for tents and a nice outhouse. It's a bit noisy considering they fish the lake, but a very nice place to flop your sleeping bag and tent down for the night.
External Links
Idaho: A Climbing Guide by Tom Lopez
Splattski Trip Report
Stanley cam
FS hiking trails (includes Soldier Lakes)
Weather
Pinpoint NOAA forecast