Music Mountain Overview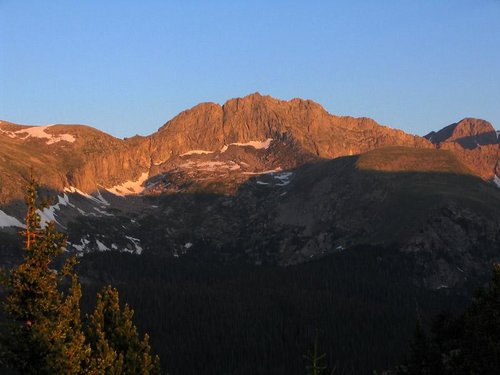 Music Mountain is harmoniously poised between
Tijeras
and
Milwaukee Peaks
near the southern end of the central Sangre de Cristos. The mountain is named after Music Pass, your gateway to the Sand Creek peaks; the pass, in turn, is so named because of the winds that often funnel through it. Music has a
pair of dramatic faces
split by a narrow ridge that's used as the standard route to the summit. The climb up this east ridge is a fantastic third-class scramble to the exposed and exhilarating
summit ridge
. Unlike Milwaukee Peak, Music is not composed of Crestone conglomerate, so the rock isn't quite as solid, but it's still of above average quality. Music's north and south ridges both appear to be technical, so connecting to Tijeras or Milwaukee via ridges would be a significant endeavor.
Music Mountain, 333rd tallest in Colorado, is one of only a handful of 13ers found within the Great Sand Dunes National Preserve, an adjunct to the newly created Great Sand Dunes National Park. These peaks stand in contrast with the rest of the Sangres because, although they are the tallest in the immediate area, only Marble Mountain is located on the range crest, which lays low for over 20 miles from Music Pass all the way to the Sierra Blanca. If you've never been to Sand Creek and the Sand Dunes Preserve, you're missing one of the most beautiful enclaves in the range featuring
two large alpine lakes
, a rushing creek, and lush vegetation all below a spectacular run of
distinctive and stirring peaks
.
Music Mountain is most easily accessed from the Wet Mountain Valley. There are other routes on Music available from the west and Deadman Creek, but the mouth of that drainage is currently inaccessible because of private property. Therefore the only way to reach Music's west side is by coming up and over a ridge, such as the one separating Deadman Creek from Cottonwood Creek.
Red Tape
Music Mountain is located in the Great Sand Dunes National Preserve and is also a part of the Sangre de Cristo Wilderness. Typical wilderness restrictions apply. Contacting the managing agencies (see 'Mountain Conditions') is the surest way to get up-to-date information.
Leave No Trace suggests you observe these principles when traveling and camping in all public lands, especially wilderness:
1. Plan Ahead and Prepare
2. Travel and Camp on Durable Surfaces
3. Dispose of Waste Properly
4. Leave What You Find
5. Minimize Campfire Impacts
6. Respect Wildlife
7. Be Considerate of Other Visitors
When To Climb
The easiest time to climb Music Mountain is June-October, but this varies year-to-year with the snowpack. A lengthy backpack and a difficult climb can be expected in winter conditions.
Mountain Conditions
The
Great Sand Dunes National Park and Preserve
main office (719-378-6300) (also available is the National Park Service's
ParkNet
page) is your best bet for gathering information on current snow conditions and other information. Milwaukee Peak is fully within the Great Sand Dunes National Preserve. Management of the peak and its surroundings in the Sand Creek watershed went from the US Forest Service to the National Park Service on November 22, 2000 with the passage of the Great Sand Dunes National Park and Preserve legislation. All that said, the San Carlos Ranger District (719-269-8500) of San Isabel National Forest is responsible for the the Sangres east of the range crest, and may have more information about conditions at the Music Pass Trailhead and the roads that lead to it. Another good contact number for the east side is the Westcliffe Ranger Station (719-783-2079).
For weather information, the
National Weather Service
is a good place to start:
Music Mountain experimental point forecast
Camping
Camping is permitted in the Great Sand Dunes National Preserve, and there are numerous spots available in Sand Creek and at Lower Sand Creek Lake.
External Links
style="display:block"
data-ad-format="autorelaxed"
data-ad-client="ca-pub-6523272176520096"
data-ad-slot="7132222476">