Overview/Approach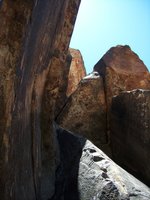 To the south of the
Hidden Falls area climbs
lies several east and south facing walls that make up the Nadia's Nine area routes of
Willow Springs
in
Red Rocks
. The most popular by far is the name sake for the area,
Nadia's Nine
, which is a fantastic 5.9 two pitch route to earn ones trad wings on for the grade. As one rockclimbing.com poster put it,
"This is an absolute Red Rocks classic that requires proficiency in almost every type of climbing to get up- including some wide crack skills."
I found that statement to be valid.
Joe Herbst
and Matt Moore put this short classic in way back in
1977
.
The
first pitch is the crux
by far. After a fun start and switching from a chimney to a stemming position, one has a
crux reach move
that is quite hard. From there you have yet to turn the small roof above which presents
another hard thought out stem move
. The ground is easier above to a large ledge. The 2nd pitch is called 5.9 on rockclimbing.com but only 5.8 in Jerry's guide book. The only 5.9 move would be the finish which requires a 4" or 5" roof crack placement and then a
tricky no feet traverse left
to pull from out and under the huge roof above. Both pitches protect fairly well and a fixed nut is directly under the second crux move of the first pitch.
Exit the Red Rocks loop road for Willow Springs at 7.3 miles. Pull out at the first parking area, Lost Creek. A trail cuts straight west for Hidden Falls. Turn left at a trail junction at about 100 yards. Continue left on a trail until you gain a saddle half way between Icebox Canyon and the parking area. When you can spot an obvious south facing wall with a huge roof at the top, that is Nadia's Nine. Ascend the hill up to several small caves. A
Buddhist temple
(2009) is in the one to the right. Enter the left one which takes you to the base of the route without having to bushwhack.
Route Description
1st Pitch- 80'- 5.9+/
There are several tough moves in this pitch. Start up chimney or stem style to the left of the black arête. Eventually catch your right foot on a nubbin on the arête. Look for a shallow finger ledge above on the left wall.
Make a hard sort of off width move to reach it.
Pull up and cram in below the roof. Protect in the roof crack and then move out left on easier ground
until you can reach your right hand back out right on a new wall and make an aggressive stem move up and over.
From there, back to chimney and stemming on easier ground to a large bushy ledge. Move right to fixed slings on trees (2009). (photos)
2nd Pitch- 100'- 5.9-/
Climb over easy ground and into the vertical corner above. Place gear at will, but
save a 4" or 5" to protect a traverse move below the massive roof above.
Climb the crack with great jams until right below the roof. Pass one large ledge on the way up. Place a large cam in the roof and make the
delicate traverse left with no feet to access the large juggy ledge above.
Belay off of a bushy tree (rappel tat in 2009). (photos)
Climbing Sequence
Descent
Two single raps with a 60m on slung trees.
Make two single rope rappels because of the large ledge in between pitches, so a single 60m rope is best for this route. Single rack to 5", but you can get by without the 5" no worries.
Rockclimbing.com calls for a 5" and 6", but I see that as overkill.
Nuts or small cams protect the first part of the first pitch. The raps are slung trees/bushes but I believe you can walk off as well if you have to. This is a south facing route.
External Links
style="display:block"
data-ad-format="autorelaxed"
data-ad-client="ca-pub-6523272176520096"
data-ad-slot="7132222476">