Overview
Monte Cristallo is a great summit: one of the most higher, beautiful and wild of whole Dolomites range.
In this page I describe the Normal Route to the
Main Summit (3221m)
(don't confuse it with Cima di Mezzo -3154m- that is reached from the
via ferrata "Marino Bianchi"
). Here, unlike than in other near part of this mountain, there's no huts, cableways, via ferratas, mass of tourists, and usually silence rules... In this wild place, 90 years ago, Austro-Hungarian Kaiserjaeger fought against Italian Alpini (mountain troops) but, in both armies, the most part of the fallen soldiers was due to the hard conditions of life rather than to the fire of the enemy...
The Normal Route was first climbed 14th september 1865 by Paul Grohmann with the guides Angelo Dimai and Santo Siorpaes from Cortina.
Paul Grohmann, from Vienna, was the most important pioneer of Dolomites: he climbed first much of the most important and highest summit of this range, like Marmolada, Sassolungo, Tofana di Rozes, Tofana di Mezzo, Tofana de Inze, Sorapiss, Antelao, Cima Grande di Lavaredo.
The route that I report is a typical normal route: too hard for a simple hiker, but not enough for a rock climber... For this reason it's not overcrowded like the surrounding via ferratas or the fashion climbing routes where you have to put yourself in queue... Here, instead, you can find the emotions of the first pioneers, though the way it's well marked with cairns and red paint...
Here you will not find the fun fair that you can get in many of the via ferratas of the near mountains, but a real mountain, with a taste of old fashioned...
The difficulties are mild
(PD, II+ UIAA)
, but the place is harsh and severe: it's a route for mountaineers or hikers with mountaineering experience, that don't fear exposure and that are able to face quite demanding climbing passages... The landscapes you can see climbing this route are amongst the most beautiful I've ever seen.
The best season to climb is summer. In the other seasons, the presence of snow makes the route considerably harder to climb!
Getting There
The point of departure is
Passo Tre Croci
. You can reach it:
from
Cortina d'Ampezzo
with route S.S. 48 (8Km);
from
Auronzo di Cadore
with route S.S. 48 (26Km);
from
Dobbiaco/Toblach
take route S.S. 51, then, passed Carbonìn/Scluderbach, S.S. 48 bis (29Km)
Passo Tre Croci is also reachable by
bus
from Cortina and from Auronzo (
Dolomiti bus
) and from Dobbiaco/Toblach (
SAD
)
Approach
The route starts from
Passo del Cristallo (2805m)
and runs over the south-east face, passing by several narrow and aerial ledges and climbing up chimneys and little walls. The last part of the route runs along the exposed and panoramic south ridge.
The trail to Passo del Cristallo starts from
Passo Tre Croci (1805m)
. The path, marked with nr 203, crosses the slopes covered by mugo pine in north-west direction, then, after about 250m, bears towards east (path nr. 221) and goes up to the beautiful hill of Col de Varda (about 2300m, 1h). From there, the path goes towards the big couloir descending from Passo del Cristallo (Grava de Cerigeres); entering in the couloir, the trail becomes a feeble track, marked only by cairns, and the ascent becomes quite hard, among an uncomfortable scree. Last meters before the pass are very steep and often covered in snow and ice (in that case crampons and ice axes are needed!); the tight track vanishes in the gravels, passes under
ruins of military stations of World War I
, and, with a last efforts, reaches Passo del Cristallo, in an amazing scenery
(2h 30min from Passo Tre Croci)
Route
From Passo del Cristallo, walk some meters towards Monte Cristallo, then you can see on your left (west) a big cairn on the rim of a ledge: it signs the start of the route. Follow the ledge, in many spots very narrow, passing by a
short old bridge
(keep attention: it probably goes up again to World War I)
. Cross many couloirs and then you reach the "Grande Cengia Inferiore" (Lower Big Ledge).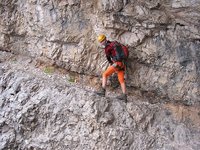 Walk the ledge for about 15 min, then climb up (a red arrow painted on a rock indicates the direction) some easy rocks and walk on some other ledges until you reach two chimneys: the first one quite easy (I UIAA), the second one more demanding (II, a passage II+ UIAA). Coming out from the chimneys, walk on a ledge on your left, climb other broken rocks, until the crains sign you to climb to a little saddle with a
strange rock head-shaped
.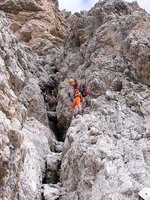 From there, climb up a couloir for about 20m (II+ UIAA), then rise up another chimney (I UIAA) and go out on the "Grande Cengia Superiore" (Upper Big Ledge). Walk on the ledge towards left (west) until you reach a beautiful terrace with a wonderful view over Cortina and the Pomagagnon ridge.
From there, go toward the south ridge: rise it up, climbing some short rock walls (I and II UIAA) and an amusing dihedral of 10/15m (II+ UIAA); from there, the exposed ridge lead on the summit
(3221m, about 2h from Passo del Cristallo, 4h 30min from Passo Tre Croci)
Descent
The descent is by the same way: several anchors for rappel (tunnels equipped with cords) enable to abseil all the harder spots.
Time to descend could change depending if and how many rappel you need...
Advice: keep attention descending: look at the cairns and at the painted marks, because it's easy to miss the route!
Route views
In this section some pictures showing the views you can see climbing this route...
Gears
Helmet:
it's necessary. I advice you to wear it since the last meters of the track under Passo del Cristallo, especially downhill.
Harness, rope, gear for belaying and rappelling:
they aren't necessary for mountaineers, but if you take with you hikers the rope can be useful, above all for the descent. This gears could be useful also to more experienced climbers in case of bad weather conditions (if wet, these rocks are very slippery): by necessity, there are many belay for rappels (tunnels with cords), above all the most demanding passages.
Books, guides, maps, external links
Best guidebooks:
- G. Buscaini, S. Metzeltin, "Dolomiti. Il grande libro delle vie normali", Zanichelli, 1995
- L. Visentini, "Grupppo del Cristallo", Athesia, 1996
- F. Dragosei, "Itinerari scelti di croda", Vivalda editori, 1999
- A. Berti, "Dolomiti orientali volume I – parte I", Cai-Tci, 1999
Best map (scale 1:25.000):
- "Cortina d'Ampezzo e Dolomiti ampezzane", Tabacco, foglio 03.
Weather forecast:
Dolomiti Meteo (A cura del Dipartimento per la Sicurezza del Territorio
Centro Valanghe di Arabba)
Web-cam:
View of Forcella Staunies
style="display:block"
data-ad-format="autorelaxed"
data-ad-client="ca-pub-6523272176520096"
data-ad-slot="7132222476">