Approach
The route start from Ref. Tita Secchi , reachable as described in the main page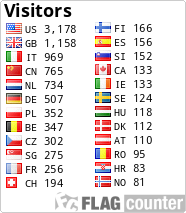 Route Description
Leaving the refuge follow path N. 1 (well signed in the first part) until Blumone Pass (2550 mt. ca., 0h45' ) From here, turn to right following approx. the north ridge, helping yourself with hands for some steps, and following the red signals, up to the half of the ridge ascent, then turn to left and traverse under the East wall to reach the south ridge, passing trough a morenic circle. Then climb the south ridge until a little plan, just under the summit, where you can left your backpack before the last climb (pay attention to falling stones). Now go up for the last 100 mt. to reach sumit (1h45'- 2h from refuge) where you can see a good landscape on
Adamello
and
Presolana
groups.
Go down along the same way.
Essential Gear
No technical gear is required from spring to autumn. Helmet may be usefull expecially in t he last part of the climb. Pay attention to the fast weather changes. In winter, ice and snow gear is required.
Miscellaneous Info
If you have information about this route that doesn't pertain to any of the other sections, please add it here.