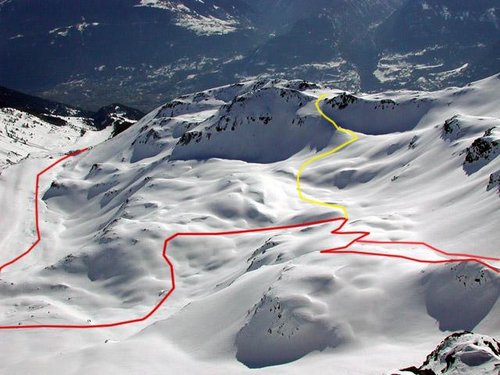 Overview
Two possibilities for a great ski-randonnee in an unusual corner of Aosta Valley.
S exposition mainly. Final ridge often windy. Take care of avalanche risks after fresh snow.
Better snow condition: late winter, spring.
Getting There
Please, refer to "getting to Vetan" section in main Monte Rosso di Vertosan page.
Route Description
From car park in front of Hotel Notremaison, follow north direction to first easy slopes to Laysser summit direction.
Way 1. Walk for about 30 min. then turn right toward Fallere direction, drawing a long half circle around Laysser base. Once left Laysser summit leftside, Monte Rosso di Vertosan appears. Go ahead with a long traverse to get the begin of steepest slope of the whole hike. It is possible to attack directly to the "no-named" pass, and exit directly onto S ridge, or use a shoulder on the right of the slope, if snow conditions are not so sure. For both passages be extremely careful! Once on large S ridge the ascend could be difficult for crisp-winded snow. The secondary summit is reachable with skis. Wear crampons to get in 5 minutes main summit. Total hike time: 4 hrs.
Way 2. Head toward Laysser summit, hiking on E ridge (right). Arrived on a large saddle, on main watershed, when Monte Rosso di Vertosan is visible, descend for 100 meters, directed to "no-named" pass. Once at the base of very steep slope, follow instruction written above. Well trained ski-randonneurs used to climb on Laysser, descend at E saddle, then north to Monte Rosso di Vertosan.
Essential Gear
Normal ski mountaineering & alpine gear. Crampons and ski-crampons required for final ridge.