Overview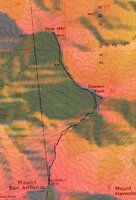 The North Backbone trail (not to be confused with the Devil's Backbone Trail) is a great way to reach the summits of Dawson Peak and Pine Mountain from the summit of Mount Baldy. However, depending on the route you take to summit Baldy, the addition elevation gain and mileage can make this an endurance hike. From the summit of Mount Baldy you must gain a total of 3000 ft over 5 miles to summit Pine Mountain and return to Mount Baldy. A carpool could be set up to allow for a one way trip where you would terminate along Angeles Crest Hwy via the
Blue Ridge Road
or
Pine Mountain Ridge
.
Another option to reduce mileage/gain would be to take the chairlift to Baldy Notch, making this a more reasonable day hike.
Getting There
The following information was taken from mdostby's excellent
Mount San Antonio
page.
From interstate highway 10 exit either on Mountain Blvd. or Euclid Blvd. and travel north. Follow signs towards the Baldy Ski Lifts (aprox 15 miles). For the Bear Canyon/Mt. Baldy Village Trail park on Bear Canyon Road down in Baldy Village (aprox 3 or 4 miles before the lifts). Walk to the end of the road where a sign leads to the trailhead. For the Baldy Notch/Devil's Backbone Trail and the Baldy Bowl/Sierra Club Hut Route park in the dirt pull-outs by Fall's Road at Manker Flat (1/2 mile before the lifts). For the Blue Ridge Trail take highway 38 from intersate 15 towards the town of Wrightwood. Take the Angeles Crest Hywy to the dirt road to Guffy Campground and Prairie Fork. Follow the dirt road 6 miles to a junction and go left. Follow aprox 1.7 miles and park in a pull-out and the base of Pine Mt. (As of 9-3-01 the gate is locked at Guffy Campground.)
Author: banjobonch
Date: Dec 16, 2005 7:06 PM
If coming from the west on Rte -210, exit Baseline Rd. and turn left at the first signal and then right on Padua. Then right on Mt. Baldy Rd. Saves you a couple of miles on the freeway.
Author: R Pollard
Date: Aug 15, 2005 4:48 PM
If you can get to the 210 freeway instead of the 10, you can skip some travel through the city of Upland. Take the exit off of the 210 for Mountain Ave. that says Mountain Ave, Mount Baldy. The directions to the ski lifts at mtbaldy.com have a good map and directions to Mountain Ave.
Route Description
The route is straightforward and the trail fairly well defined all the way. From the top of Mount Baldy you head north and catch the North Backbone trail heading directly down the ridge towards Dawson Peak. This is the steepest part of the trail and it still technically class 1 (even with exposure and grade). It is 1200 ft drop to the saddle between Mount Baldy and Dawson Peak. Then you must ascend Dawson Peak (the trail skirts around the west side of actual summit), head back down to the saddle between Pine Mountain and Dawson Peak, and then ascend Pine Mountain.
My
trip report
has more details:
Essential Gear
Snowshoes, crampons and ice axe may be required durning wintertime depending on the snowpack. There is no water along the way and the ridge is exposed, so bring plenty of sunscreen and water.