Overview
North Buttress is one of the best 5.10 routes in Eastern Sierra. Camp sites around Royce Lakes are spectacular.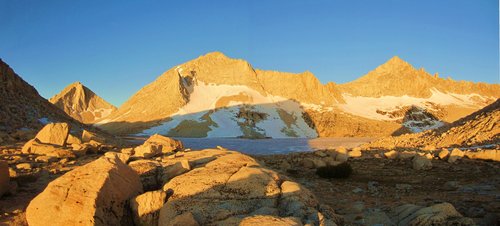 This route offers a great variety of mostly clean crack climbing, up a aesthetic buttress. Climbing is mostly sustained in 5.8-9 range with a few cruxy 5.10 moves. However there are a few loose blocks around (just like on any alpine climb) and climbers should be cautious not to pull them off.
Getting There
From Pine Creek trailhead hike up the many switchbacks leading up to Pine Lake. Follow a good trail and pass it on the right (NW) side. Continue SW and pass Upper Pine Lake on the right side as well. Pass the Honeymoon lake on it's south side and soon after cut south-west. Hike up the grassy valley which leads to slabs, and aim for the gap between Bear Claw Spire and Spire peak. As you walk between these peaks a gorgeous view towards Feather and Royce will open up. Merriam is a peak directly to the left (south). North buttress is a clean chunk of rock in the middle of it.
Route Description
Trip Report:
http://vividrea1ity.blogspot.com/2012/11/direct-north-buttress-of-merriam-car-to.html
Pitch 1
4th class. Other variations exist. Most will solo on the right side of the toe of the buttress. Climb up to an obvious ledge after which the climbing becomes steep, and obviously technical.
2.
5.8-9. Climb up a crack and transition to another thin crack just right. Thin crack offers finger locks and fun face moves. Awesome clean pitch. Belay on a nice ledge.
3.
5.10a. Climb up and protect the crux move by placing pro in a crack to climber's left. Flake which is used as a hand hold on this move is a bit loose. Grab it up high to avoid pulling it off. Continue straight up. Good belay stance.
4.
5.9. Climb up some good cracks and make a committing mantle to a ledge which traverses about 20 feet to left. Find a ledge you prefer at the base of triple crack pitch.
5.
5.9. Climb up the awesome 'triple cracks' pitch. Climbing is not too hard, but sustained. Well protected by cams of all sizes. Belay in an alcove on the right, or just bellow it. *Pitch 4 and 5 were linked with 1 70m rope when we climbed this route. 70m was barely enough to link these.*
6.
5.8-9. Go up and right above the alcove. After passing a variety of cracks and exposed moves you do a perfect hand crack in a corner up, and finish with a lie back to get to the ledge.
7.
5.10b. Climb up a sustained and very steep hand crack (5.9) up and continue up the corner. You do a 5.10b move to reach easier climbing. Go left and up the wide crack. Belay at the big ledge, left of a huge block. Half of this block is balanced above the route!
8.
5.7. Climb up and right and do a hand traverse just under the giant block. Moves are exposed and position spectacular. This pitch can be as short or as long as you wish.
9.
300-400ft of cl 3-4. Past the big block the best thing to do would be to simul climb on the left side and crest of the ridge, to the summit. Knife edge traverse on this cl 3-4 simul climb is awesome.
Essential Gear
Cams- doubles in .3-2. 1 #3 and 1 #4.
Set of nuts
Amount of draws you feel you need. We brought about 14.
External Links