Overview
North Face (III, 5.6)
Hound's Tooth
Bugaboo Provincial Park
Selkirk Mountains, British Columbia, Canada

First Ascent July 1982
George Marinakis
Harry Marinakis
You will get a lot of practice yelling "ROCK!" on the North Face of the Hound's Tooth. Compared to the other spires in the Bugaboos, the rock on the Hound's Tooth is extremely shattered. In 1982 we made the first ascent of the North Face by ascending the prominent right-facing book/chimney on the north face and then climbed directly up the summit snowfield. This route is "not recommended" per the Bugaboo Rock climbing guide because of the extreme rockfall danger.
Getting There
Hound's Tooth can be reached by traversing directly across the icefall of the Bugaboo Glacier from the Kain Hut, but this is a very dangerous and time-consuming endeavor. A better approach is to climb the moraine until you are above the icefall, traverse the upper glacier and then descend along the base of the spire.
Rock fall is a real danger along the base of the Hound's Tooth.
Route Description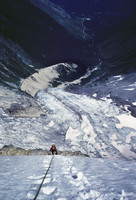 The crux of this route is just getting to the start of the route. Prepare to get pounded by rockfall while you are trying to negotiate the seracs and crevasses along the base of the spire. Descend along the base of the spire and rope up at the place of your chosing.
From the randkluft, climb directly up the shattered lower portion of the north face. The leader and the rope will set of cannonades of rockfall, which in turn set off more rockfall. Thus, the leader should pick an ascent route that directs the rocks away from the belayer. The face is so shattered that you can pick your route, angling away from your belayer.
Higher up on the face you will encouter the enormous right-facing open book/chimney. Pick your way in and out of the chimney so as to avoid bombing your belayer.
Once you arrive at the great summit snowfield, ascent directly to the summit.
Beware of avalanche danger!
Carefully pick your day and time of climbing!
First ascent was during August 1982 by brothers Harry and George Marinakis.
Essential Gear
A helmet is mandatory, along with a good set of lungs to yell "ROCK!" over and over. You might consider either ice screws or deadmen for the summit snowfield if you chose to belay up there.
Descent Route
Down climb the NW Face.
References
Bugaboo Rock
by Randall Green, and Joe Benson, second edition 2003, p. 195
External Links
Photos of the Hound's Tooth
Photo of North Face of Hound's Tooth
Photo of North Face of Hound's Tooth
Photo of North Face of Hound's Tooth
Photo of North Face of Hound's Tooth
Photo of North Face of Hound's Tooth
Photo of North Face of Hound's Tooth
Photo of North Face of Hound's Tooth
Roger Hostin Photography
Mountain Scenes Photography