Overview
North Moat Mountain is one of the lesser traveled peaks in the White Mountains, located in Carroll County, New Hampshire. North Moat is flanked to the south by Middle Moat Mountain, and to the west by Big Attitash Mountain. North Moat Mountain stands within the watershed of the upper Saco River, which drains into the Gulf of Maine at Saco, Maine. Based on peakery data, it ranks as the 165th highest mountain in New Hampshire and the 33611th highest mountain in the United States. North Moat Mountain has a rocky 3196 foot summit with many ledges and unobstructed views in all directions. The loop hike from Diana's Baths parking area is just over 10 miles and around 2800 feet elevation gain to make for a solid 5-7 hour day. The bare and rocky summit is littered with an enormous amount of wild blueberry bushes (ripe in July.)
Getting There
Start on the northeast Moat Mountain Trail with parking at the Diana's Bath lot in North Conway. Driving from North Conway center (shopping areas) turn onto Washington Street at a 4-way junction to follow route 16 North, next take a left on to West side Road, stay left at the only intersection, you will pass Catherdra Ledge Drive on the left, turn left when you see the signs for Diana's Baths and this is the parking area. There are restrooms in the parking area.
Red Tape
The Diana's Baths parking area has a Parking fee of three dollars a day.
There's a deposit-box system for purchasing parking at the trailheads.
Camping
There is no designated camping along this trail.
Weather
Always check the local weather reports. http://www.mountwashington.org/weather/summit_forecast.php
Route Information
You can start this loop hike from either direction, as you wish. Beginning at the parking area, it's about a .6 mile walk to Diana's Baths, continue another .6 miles to the junction of Moat Mountain Trail (counter clockwise loop) and Red Ridge Trail( Clockwise loop.) From here if you go in the direction of Moat Mountain Trail you will cross Lucy Brook, ascending gently to reach another junction to the Attatash Trail at about mile 2, you will remain on the Moat Mountain Trail. The next 2-3 miles will be the bulk of the climb and 2800 feet gain. The summit is bald with views in all directions. You will continue to dodge in and out of alpine terrain and bald stone faces, (in the summer the bulk of the climb is littered with amazing wild blueberry bushes.) Once off the summit you will continue along an unnamed peak between North Moat and Middle Moat Mountains, you will reach another junction to the Red Ridge Trail which will take you along a fun, bare, steep rocky ridge with amazing views the entire way down. Once off the ridge you will cross Moat Brook and begin the relatively flat walk back to toward Diana's Baths (2-3 miles)
When to Climb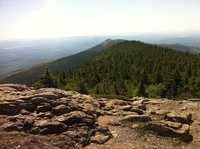 You can hike this mountain through out the year, May to October are going to be the sunny/warmer months and November through April will be more alpine. Be prepared for rain and wind during the summer months, which can pop up out of no-where. During the winter months, outfit your-self mountaineering style with an ice axe and crampons, (the trails up this mountain are steep and exposed in some areas.)
I frequently use this site for all weather-related arrangements:
http://www.mountwashington.org/weather/summit_forecast.php
[img:729980:alignleft:small:]
style="display:block"
data-ad-format="autorelaxed"
data-ad-client="ca-pub-6523272176520096"
data-ad-slot="7132222476">