Overview and Approach
Ridges or Faces
, choose your poison; Half Moon provides several attractive choices. The N ridge route starts in a deep cleft and then follows the narrow crest directly to the summit.
Approach as for Kangaroo Pass, at 2 miles from the car look up to the East and observe the prominent scree gully coming down North of Half Moon, climbing this will bring you to the base of the climb in the deep notch North of the peak.
Note:
Also see Eric's description under approach on the main page.
Route Description
Seven pitches: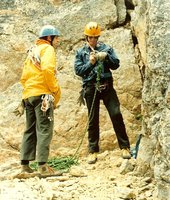 Start at the deep notch North of the peak and begin climbing up the broad buttress heading for the ridge-crest (approx 1-1/2 rope lengths). The rock low down on the route is eroded but higher up is excellent.
The route stays on or near to the West of the ridge-crest. Good belay ledges are spaced as needed, except at the end of the 2nd pitch. While climbing on the West side of the ridge-crest (P6), on dinner plates and knobs, I found a perfectly round hole in the face which enclosed a large thunder egg (couldn't figure out how to place pro there).
The final pitch of the route is Class 3 or easy Class 4. Descend the route.
Essential Gear
A medium sized rack of Stoppers and Hexes were all we used and worked just fine. Double ropes and slings or runner material would be nice for the rappels. We found no fixed gear nor rappel anchors on the route. Early season bring ice axes for the approach.
NOAA Digital Weather
You can check the NOAA weather site
here
for current local conditions.