Overview
A Climber's Guide to the Teton Range
describes the North Ridge of Static Peak as follows, "II/5.1, No Information is available, but the rock on this ridge is likely to be unsound."
I found the west side of the ridge to be pleasant 3rd/4th class rock all the way to the top.
Getting There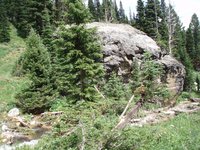 Getting to the col between Buck Mountain and Static Peak via Stewart Draw is the real challenge of this climb. From the Death Canyon Trail Head, follow the Valley Trail towards Phelps Lake for about .75 miles. Just before the third foot bridge, follow a small trail to the north. I was able to follow this trail as it gained elevation and continued north towards the main drainage, but lost it a ways before the drainage. From here I spent some time trying to reacquire the trail and eventually bush whacked to the north side of the drainage and hiked up (west) the draw next to the drainage. I located an obvious trail at about 7950 feet, next to the large boulder described in the guide book. I lost this trail in the boulders about 1000 feet below the lake, but continued up and slightly to the left (south) until I reached Timberline Lake. On subsequent visits to Stewart Draw, I was able to follow a trail all the way to the boulder field with no problem.
Route Description
From Timberline lake, climb the snow up to the col between Static Peak and Buck Mountain. Cross over to the west side of the ridge and ascend easy 3rd/4th class rock to the top of Static Peak. I did not pay particular attention to the actual ridge proper, other than to note that it wasn't something I felt comfortable soloing up.
Essential Gear
Helmet, ice axe and crampons leading up the snow/ice to the col (Late July).
Red Tape
A free permit, available at the Jenny Lake Ranger Station, is required to camp at Timberline Lake. There is a fee to enter Teton National Park.