Overview
This route follows the Prospector Trail up to the saddle between Slater Peak and North Slater. From there it climbs up a south ridge to an east-west ridge which is climbed west to the summit.
The round trip distance is only about 3.0 miles with 1000 feet elevation gain, but with a steep off trail scramble for the 2nd part of the route.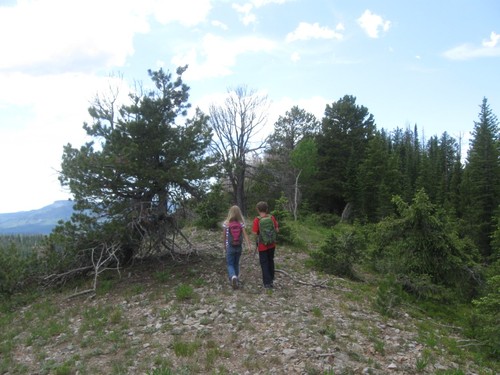 Getting There
From Steamboat Springs, drive to the north end of town and to where County Road 129 leaves Highway 40. A sign marks "Clark" and "Hahns Peak". This is the same road heading to the airport. Drive north on CR 129 for approximately 30.8 miles.
Turn left (east) on FR 129 (gravel), marked for Hahns Peak Lake, to another junction after 2.1 miles. Turn right and follow the road for 2.3 miles, around a bend to the trail marked as "Prospector Trail". A small parking area is just beyond the trail sign.
The road can be slightly rough near the end, but is usually good for all vehicles during the summer season.
Route Map
Route Description
From the trailhead, follow the well-marked Prospector Trail up the hillside. Unlike most trails in the Elkhead Mountains, the Prospector Trail is well marked, well used, and easy to follow. Be aware that the trail is also open to motorcycles.
After just over a mile, the trail reaches the saddle between Slater Peak and North Slater Peak.
To climb North Slater Peak, head northeast along the ridge. This ridge is easy to follow with little bushwhacking. The ridge eventually fades away into the steep slope. From here, climb north up the steep slope to the east-west ridge of North Slater Peak. The highest summit is on the far west end of this ridge. As you head west along the ridge, you will pick up a good game trail in places. The ridge terminates at the summit.
Enjoy the fine views from the summit before returning the same way. Make sure to head south to catch the spur ridge that heads back to the saddle. If in doubt, leave a small cairn on your way up (which can be removed on the return trip).
Essential Gear
Since the slopes on the route are steep in places, a pair of trekking poles is recommended.