Overview
Leavitt Peak is a popular peak for hikers to climb via the Pacific Crest Trail or Blue Lake, either route providing little if any technical challange. However, there are five couloirs on the face of Leavitt Peak that would certainly provide more excitement for those wanting to climb this attractive SPS peak. I'm not sure if these couloirs have official names; until I know for sure, I will refer to them by the number show on the mountain image below. The "Y Couloir" (#3) is second from left on Leavitt's north face, and is clearly the longest and most prominent of the five, splitting to form a "Y" 4/5 of the way up. ndriley97 and I climbed this route on June 18, 2006, a heavy snow year, so snow was constant above 9000 ft.
Getting There
The Blue Canyon trailhead is not marked nor mapped, and even if it was, in the Spring, you would not be able to see much evidence of it. However, it was not difficult for my partner and I to find our way, keeping in mind that our goal was to follow Blue Canyon Creek up from where it meets Deadman Creek. The best place to park is ~2 miles East of Chipmunk Flat Campround, on the left side of Highway 108, after two sharp left hand turns; there is enough room for 2-3 cars. For those of you with a GPS, the parking spot is at 38.3173°N, 119.6664°W.
Route Description
Cross the creak opposite the mentioned parking spot and climb a small knoll to the east, cross over then up another slope to get you into the Blue Canyon Creek Drainage. Heading south, follow the creek up a narrow drainage and into a small meadow. Continue following the creek south up a bit and into a larger meadow where you can only go SW to Blue Canyon Lake, or SE towards Leavitt Peak. Follow another creek SE up into another meadow; at this point you should see Leavitt now so head strait towards it, going left around a prominant ridge coming down from the West Ridge.
There are five couloirs, Take the one that splits into a Y at the top (see image). The right branch of the Y may be steeper and possibly corniced, where as the left branch, though steep, was not corniced when I was there. The route is steepest at the top, measuring in at ~55 degrees. It appeared that there had been rockfall but we saw none that day.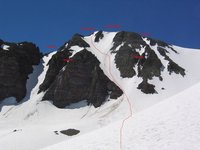 Essential Gear
Helmet, crampons, ice axe.
We roped up for the couloir and simul-clibed the entire way. We were prepared to use screws or pickets if needed but the snow was soft enough to kick steps; the final 100+ feet did not require a 2nd tool.