Overview
The route to Ten-Four Mountain via its Northeast and East Ridges is neither the longest nor shortest approach. It is also neither the steepest nor the most technically/physically demanding approach. However, this approach is best to recommend during periods of deep snowpack (3-4' minimum) on the upper slopes of the mountain.
Although this approach can be done year-round, the recommended timeframe to do this route is during periods of snowpack. More specifically, early-to-mid Spring should still have enough snowpack suitable for snowshoeing the route to the summit.
There is only one true "crux" section that must be encountered along this route. Point 3816, towards the northern end of the Northeast Ridge, has a boulder outcrop at its summit. This boulder outcrop must be scrambled over during snow-free periods, or can be carefully snowshoed over and through during periods of deep snowpack (3-4' minimum). Further south, at the intersection of the Northeast Ridge and East Ridge, is Point 4228 which has small rock cliffs surrounding it. These cliffs can be avoided by side-traversing around them at ~4000' elevation, which is most easily accomplished during periods of snowpack using an ice axe and snowshoes (or crampons, depending upon slope conditions).
The route is approximately 6 miles each way, of which only 1.5 miles each way is off-road. The off-road sections are all along ridgelines, traversing through second-growth and third-growth evergreen forests.
Getting There (Driving Directions)
From Gold Bar, Washington:
1) Head east on Highway 2 approximately four miles to Forest Service Road 62.
2) Head south on Forest Service Road 62 (gravel road) for four miles, to the intersection with Forest Service Road 6221.
NOTE: Forest Service Road 6221 is unmarked and gated, but is the first road intersection (to the rightside) that occurs soon AFTER a concrete bridge (crossing Proctor Creek).
3) Park near the gate, but do not block the gate.
Route Description
From the Entrance Gate of Forest Road 6221:
1) Hike northwest, then west, along Forest Road 6221.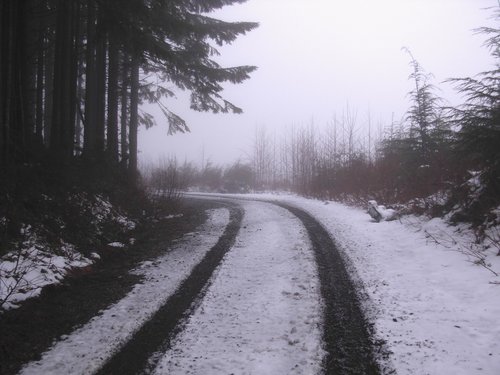 2) After approximately three miles Forest Road 6221 crosses a bridge over Duffey Creek. Continue following a logging road northwest as it curves around the lower slopes north of the Northeast Ridge of Ten-Four Mountain.
3) It is approximately one mile between the Duffey Creek bridge and the road-end at ~3400' elevation along the northern end of the Northeast Ridge. The road becomes more overgrown with young alder trees above 3000' elevation.
NOTE: Within 0.25 miles of the road-end is a side-road that branches off along the west side of the ridgeline. Maps show this road as ending at a higher elevation than the recommended road, but that side-road ends below very steep slopes that are not recommended for travel.
4) At the recommended road-end, leave the road and head south/southwest up the Northeast Ridge. The evergreen trees are younger and more closely-spaced at first, but the forest begins to open up by 3600' elevation.
5) After 3750' elevation, the hill becomes a boulder outcrop/scramble until over its summit (3816' elevation). This section is considered the "crux" section of the entire route. This section is generally not difficult, but extra caution should be used to help ensure a safe traverse. The west and east sides of Point 3816 are steep rocky cliffs, so going over the rocky hill tends to be a better option than dropping several hundred feet elevation to go around the hilltop.
6) Continue following the Northeast Ridge until ~4000' elevation due north of Point 4228. Cliffs surround Point 4228, so a side-traverse is recommended to bypass that summit. The use of an ice axe and snowshoes (or crampons, depending on conditions) are required for safe travel along this side-traverse along steep slopes during periods of snowpack.
NOTE: This side-traverse is generally the only section along the entire route where avalanche conditions should be monitored, as the rest of the route is in thick forests, along ridgetops, and/or along roads where avalanche conditions are not concerns.
7) Once on the East Ridge of Ten-Four Mountain, being hiking or snowshoeing west towards the summit. Brush and tree blowdown can become an annoyance during this ridgewalk, unless snowpack covers the ridgetop.
8) Reach the summit at 4384' elevation.
DISTANCE: ~Six miles each way, of which only 1.5 miles each way are off-road. The off-road sections are all along ridgelines.
Essential Gear
DURING PERIODS OF DEEP SNOWPACK:
-> Trekking Pole(s)
-> Snowshoes
-> Ice Axe
-> Crampons and/or Microspikes (recommended)
DURING SNOW-FREE PERIODS:
-> Trekking Pole(s)
-> A lot of patience and resolve (due to bushwhacking)
External Links
During Winter and Spring months, it is important to keep track of current snowpack conditions, weather conditions, and avalanche conditions.
The United States Department of Agriculture has a SNOTEL site located only several miles southeast of Ten-Four Mountain. The SNOTEL site is known as "Alpine Meadows", located at 3500' elevation. It tends to be a good indicator of current snow depths and conditions. The SNOTEL site can be found at
this link
.
The Northwest Weather and Avalanche Center (NWAC) has a website dedicated to monitoring current and forecasted avalanche conditions. The NWAC site for the area containing Ten-Four Mountain can be found at
this link
.