Approach
Follow the directions on the main page for Steins Pillar under "Getting There" section. Once you start descending down the dirt steps toward the base of the Pillar, stay toward the right side of the base. Look for an obvious
chimney
(40-50 feet tall) formed by what
appears
to be a huge boulder on the right and the Pillar itself.
Route Description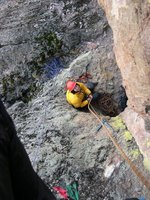 The free rating of the route (see "Route Overview" information on main page) is given by Jeff Thomas as III 5.11a. The original aid rating given in Dodge's guidebook is III 5.7 A3. Given the accumulation of fixed pro on the route including some new bolts, the aid rating is probably closer to an A2 with mandatory free moves being in the 5.8 to 5.9 range (see also discussion of this in the
Northeast Face TR
on
cascadeclimbers.com
). Pitch lengths have been taken from Dodge's guidebook as well as the
Northeast Face TR
.
Pitch 1:
5.5, 50 feet. This short pitch is probably a bit shorter than 50 feet. The crux comes right off the ground (is over within 10 feet) and is stiffer than 5.5. In fact, it is quite hard and awkward (esp. if you prepared yourself mentally for a 5.5). Above, low 5th class cruise leads to the east end of the huge lower ledge system on the northeast face. Belay from two new bolts directly above the chimney. You could protect the initial boulder move with a #4.5 or 5 Camalot (though you are right above the deck).
Move the belay by walking right (roughly west) along the huge lower ledge system on the Northeast Face of the Pillar. Pass a huge overhang (forming almost a
cave
below it) and find a single, new bolt at the far end of the overhang (before you encounter end of ledge system). Belay can be backed up with a small cam and/or tricam (used a yellow Alien and red Camp tricam).
Pitch 2:
5.7 A2, 70 feet. This is a diagonal traverse pitch angling up at about a 45-degree angle over the lower ledge system you just walked (look up while moving the belay and you can make out some of the fixed pro on this pitch). Just beyond the bolt, climb up a small, right facing dihedral 10-15 feet. This is a balancy (and unprotected) 5.7-ish move (not exposed). Just above, find a good-looking fixed piton. Clip in your aiders and start aiding up and left. A mix of small nut placements and fixed pro brings you to a large (6-8 foot)
block
which moves a bit. Tell your belayer (now directly below you but safely tucked inside the
cave
) to duck, place a small cam near the base of the
block
and lightly continue left past it. More fixed pro follows. There was a section with many shallow 1-inch holes that seemed to accept nothing (did not have sufficiently short & stubby pitons – hooking might have worked). Used stick clip here to get past this short section. Pitch ends on a good ledge with two new (+one old) bolts via a 5.7-ish mandatory free face move. Looking up at upper half of P2:
here
.
Pitch 3:
A2, 90 feet. Walk 10 feet to the left end of belay ledge (ignore the bolt just above belay bolts -
"sucker's" bolt
). Move up a shallow, right-facing dihedral. Small cam and nut bring you to the beginning of the fixed pro ladder. Move up the ladder consisting of some
interesting pro
with good bolts thrown in to keep the stress low. One piece was missing and a piton needed to be hammered into an old bolt sleeve. Pitch ends with a
low angle ramp
at the left edge of the huge, split-level ledge system on the northeast face of the pillar. Belay from two new bolts. Views of pitch from P2 belay:
here
and
here
.
Move belay by walking up the split-level ledge system about 30 feet (roughly west again) to another
pair of new bolts
just below an overhanging wall.
Pitch 4:
5.8 A2, 60 feet. Stretch (or stick clip) a piece of webbing hanging from a piton on the overhanging wall. Move up past a few fixed pieces. A section with missing pieces was encountered
midway up the pitch
. Pounded in a piton into an old bolt sleeve. Encountered more shallow, wide holes that did not accept any pro (possibly hooking might have worked). Stick clipped past this short section. Pitch ends with a mandatory free move onto the High Black Knob. This is a balancy 5.8-ish face move. Belay from two new bolts. Looking down the pitch including the final free exit move onto High Black Knob:
here
.
Pitch 5:
A1+, 60 feet. Either free climb a few feet (5.9-ish face?) or stick clip a piton just out of reach. Follow fixed pieces to the top (one clean placement just below the summit, 0.75 Camalot). Belay from three new bolts. Looking up at P5 from High Black Knob:
here
. Looking down the route from midway up P5:
here
.
Note that pitches 4 and 5 can be linked.
Descent:
From the summit anchors atop P5, rappel 160 feet with two ropes to bolts atop of P3 (see
here
). Do another 180 foot rappel to the ground.
Route can also most likely by rapped with a single rope by retracing the route. Have not tried this option.
Essential Gear
Helmets. Two ropes for descent. A light trad rack consisting of a few cams under 1 inch (specifically used green, yellow, red Alien and 0.75 Camalot) and few small to mid sized nuts. Might want one large cam for the P1 chimney. Also used a red Camp tricam to backup one bolt belay at base of P2. A few pins including some sawed off (or short) angles. Leave Bugaboos, Lost Arrows and other other super thin stuff at home. Cheat stick just in case you find some fixed stuff is missing and you don't have it on your rack.
Photo "Topos"
Couple of route overview shots:
style="display:block"
data-ad-format="autorelaxed"
data-ad-client="ca-pub-6523272176520096"
data-ad-slot="7132222476">