Approach
From Boulder, Take Broadway/Hwy 93 5.25 miles south from the intersection of Broadway and Canyon to the Junction of Hwy 170. There will be a sign for Eldorado Canyon State Park at this intersection. Take a right (west) and proceed on Hwy 170 for 3 mile to the town of Eldorado Springs. The highway becomes a gravel road through town, please drive slowly, and proceed through town, past the Eldorado Springs Resort and into the State Park. The entrance fee is $5 per car ($2 per person for a walk/ride-in) or $55 for an annual Colorado State Parks Pass. From the entrance gate, proceed approximately 0.6 miles to the Rattlesnake Gulch Trailhead (on your left). Park here.
From the trailhead, follow the Rattlesnake Gulch trail approximately 1.4 miles to the remains of the Crags Hotel. From here, take the left fork of the Rattle Snake Gulch Loop (marked with a sign) and proceed south. You'll come to a switchback where the trail turns right up the switchback, but another trail proceeds straight, past a small wooden fence. Go straight to the train tracks. The North Ridge is the ridge above the tunnel to your right. To reach the Northeast Ridge, proceed east along the tracks (do not walk on the tracks, they are private property) to the tunnel approximately 1/4 mile east. The Northeast Ridge is above this tunnel. Cross the tracks and scramble up to the ridge crest.
Route Description
From the eastern tunnel seen from the Rattlesnake Gulch trail (Tunnel 5, I believe), scramble southeast and gain the ridge. Scramble along the ridge, in a SSW direction, avoiding the technical and/or difficult sections. The difficulty never exceeds Class 3 (and can probably be kept to Class 2 by staying off the crest of the ridge). After approximately 0.4 miles and 700 vertical feet, the ridge turns WSW a couple hundred yards north of Mickey Mouse Wall and ascends another 0.6 miles and 600 feet to the summit. Descend via this ridge or the North Ridge (shorter).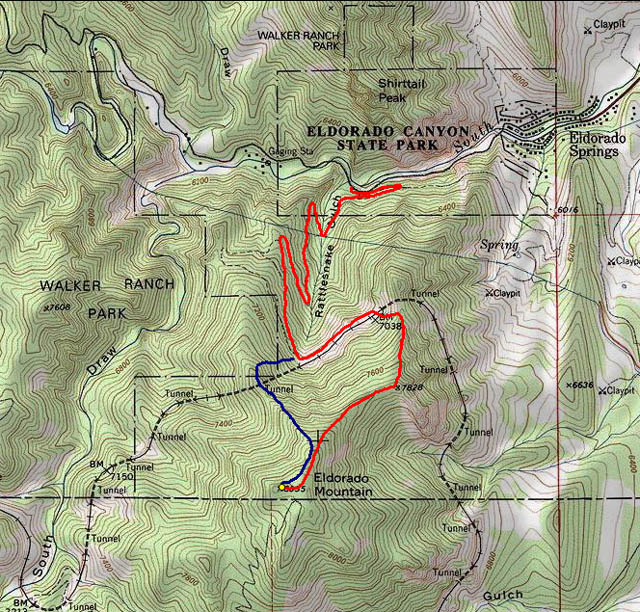 Route topo. Northeast Ridge shown in red. North ridge shown in blue. Approximate distance is 3 miles one-way with 2500' of elevation gain.
Essential Gear
Bring the typical gear you'd bring for a scramble in the lower Front Range mountains. This route is all bushwhacking, there are no trails... so have a map and compass and the knowledge of how to use them. Pockets of deep snow linger among the trees and rock in the shaded areas, so gaiters are handy at the appropriate times of the year.
Miscellaneous Info
If you have information about this route that doesn't pertain to any of the other sections, please add it here.