Approach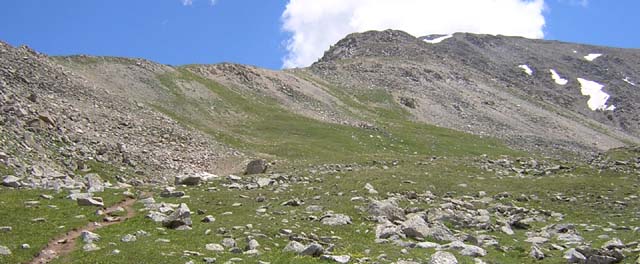 La Plata Peak's Northwest Ridge.
The Northwest Ridge route starts from the Lake Creek Trailhead. See the main La Plata Peak page for directions. I've also reproduced Kane's directions from the main page here in case anyone wants to print the route description and driving directions on the same page:
"La Plata Peak is one of only a few Colorado fourteeners that you can reach the trailhead via a paved road! If approaching from the east, go 14.5 mile west on Colorado 82 from the junction of U.S. 24-Colorado 82. If approaching from the west, go 9.2 miles east on 82 from the summit of Independence Pass. There is a turn-off here and plenty of parking available. This parking area tends to fill up quickly on the weekends. For additional parking and camping, turn south onto South Fork Lake Creek Road (FS 391) and continue up the rough road. You will need a high clearance vehicle for FS 391."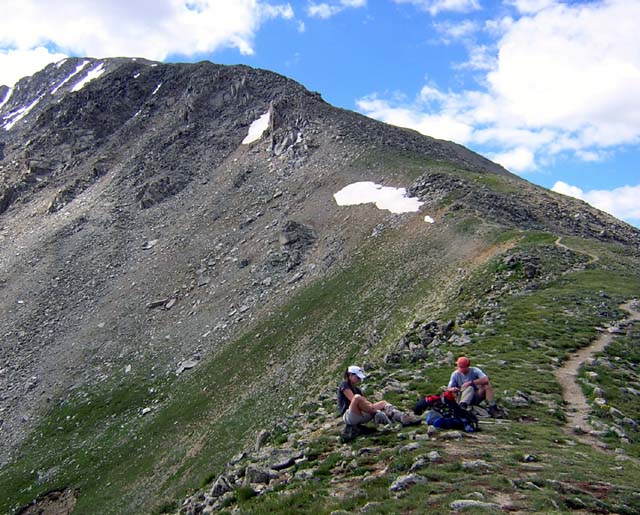 Northwest Ridge of LaPlata Peak, from approx. 12,700'.
Route Description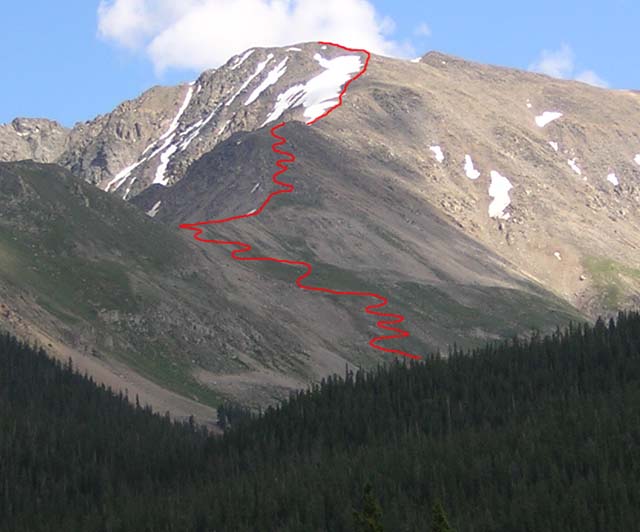 La Plata peak, as seen from the large wooden bridge on South Lake Creek Road, near the trailhead. Route shown in red.
Begin by following the South Lake Creek Road south, crossing over Lake Creek on a large wooden bridge. Continue about a 1/4 on the road to the trail that cuts left (east) into the forest (trail was signed last time I was there). Follow the trail up to a small canyon containing the South Fork of Lake Creek (creek is contaminated with mine runoff, do not drink) and cross the canyon on a cool footbridge. Follow the main trail *RIGHT* from this point (Gerry Roach's book has you going left here, on an older trail, I would assume. It appears the trail has since been re-routed). The trail continues uphill paralleling La Plata Gulch. Just below treeline the trail switchbacks steeply up an avalanche chute, traverses southeast, and switchbacks up to the shoulder of La Plata's Northwest Ridge at around 12,700'. From there the trail continues up the Northwest Ridge across talus and possibly some lingering snowfields to the summit.
Descend via the same route. Looking NNW down the Northwest Ridge trail, from approx 12,500'. The Independence Pass Road (Hwy 82) can be seen in the valley below.
Essential Gear
Assuming a summer ascent, bring standard 14er equipment. The lingering snowfields we encountered didn't warrant and ice axe at the time, and if they did, they could have been easily bypassed on the sides. A winter ascent should warrant caution as the route climbs on, under, and above potential avalanche paths.