Overview
The Northwest Ridge of Mount Reynolds is a nice ridge climb in the Lake Chelan Sawtooth Wilderness area, that features, good rock, fun moderate climbing, and great views. The route reaches the summit of the lower north peak directly. This can then be continued on to the summit of the south (higher) peak.
Getting There
Follow the directions to the Reynolds Creek trailhead as shown on the main page. The approach follows the trail all the way in, not the variation as described on the main page.
Hike the Reynolds Creek Trail for approximately 5 miles up the drainage staying on the north side of the main fork of Reynolds Creek the entire time. The trail ends at the high notch separating the north peak of Reynolds from Rennie Peak to the northwest. Traverse across the basin to the southeast to gain the spur trending northeast towards the upper northwest ridge.
Route Description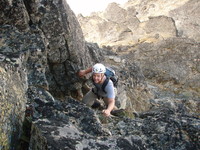 Climb the ridgecrest on good rock passing difficult gendarmes on the right (south) side. The first part of the ridge is class 3 / 4 near the crest. There is a gendarme in front of you. You can either climb this (a few moves of mid 5th) of bypass it on the right. There is a rappel on the other side, so if you are going ropeless you might want to traverse around this section. Traverse the next section on its right. From here, regain the ridgecrest for a few hundred feet, until forced off by another steep gendarme. At the notch on the other side, regain the ridgecrest and follow this on 4th and low 5th class rock to the summit of the north peak.
For the south peak, descend down the easy snow or rock slope to the south. Walk towards the northwest ridge of the south peak, then follow the directions to the summit on the main page.
Descent
- You have 2 options:
1. Descend the long southwest ridge coming down from the plateau between the 2 peaks. Scramble down until you can exit off it to the north, then traverse the basin to the north back to where the trail ends.
2. Descend the snow or scree (depending on time of year) trending northeast from the basin between the 2 peaks. Follow the valley down until you hit steep forested slopes then about 1/2 mile of vine maple. Descend through this following the small streams back to the main fork of Reynolds Creek. (The Vine Maple is pretty easy to navigate through). Cross the main fork and to regain the trail
Essential Gear
Ice Axe
Crampons (Optional, depending on snow conditions)
Rope (Optional)
A light alpine rack to 2" (Optional)
External Links
Add External Links text here.