Approach
VIA OLD BRIDLE PATH: From I-93 get of Exit 24 and head east through the town of Ashland. Stay on the road and take 26 east to Holderness. At about 2 miles you will at the town center of Holderness. Make a left onto Route 113 and head roughly 10 minute on the road. there will be parking 5 miles on your left. The Old Bridle Path will be across the the street.
Route Description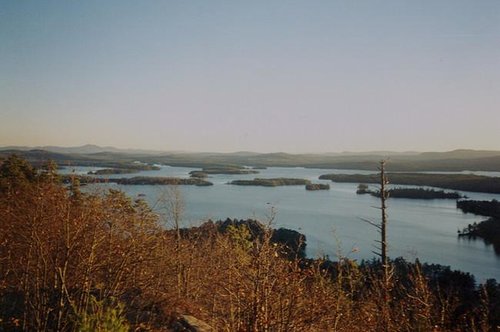 Old Bridle Path
0.9 miles
(1.8 miles roundtrip)
400 feet elevation gain
From beginning to end this trail consist of easy to moderate grades to the summit. It ascends an old logging road through the woods of West Rattlesnake. Near at any point does this trail become steep. Once you reach the summit the beautiful cliff overlook will be on your right. Enjoy the views from the summit.
Essential Gear
In summer just walking shoes and some water. Remember the bug repellant in June due to black fly season. In winter snowshoes would make this trail much more enjoyable.
Miscellaneous Info
If you have information about this route that doesn't pertain to any of the other sections, please add it here.