Overview
This is the second most frequented route to Oturia because it presents a few of old ruins of villages. If you has two cars is the option most popular to descent after the ascent form Yebra de Basa.
Note about track of GPS: because we climbed with a lot of snow we needed more time walking and it was impossible to reach the summit if we wanted to descend before the sunset and the track ends in the bottom of the last hill, but it's very useful to find the path.
Getting There
-Oliván is in the road to Biescas. The crossroad is in the approach to Sabiñanigo from Jaca (N-330) and some km before Biescas is the signal to Olivan.
Route Description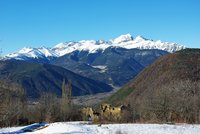 We descent from the village on right side to the dam. We cross the dam and we follow the track with paint yellow and white of the P.R. 4 (small route). We follow the signals in direction to the village of Susín leaving the track and walking nice paths in the forest. After some zig-zag we arrive to the ruins of the old village of
Susín
. In many weekends on spring and summer the church is open and you can visit it. In the village exists a few of signals of P.R. to different villages and we take direction to Casbas de Jaca. The path goes among the small walls of stone to reach the ruins of
Casbas de Jaca
in an area a little confuse with some trees. In the village we take the wide forest track following the cairns on left side. We must search with a lot of attention the marks of paint to follow the path between the tracks. Finally we reach a new track and we turn to right side until a curve. We turn to left and following the track we exit to a terrace with great view of the summit. We walk on the terrace following the path to reach the bottom of the presummit East. We leave the path and we attack the ramp walking in zig-zag to reach the presummit. It's easy now to walk in west direction (right) to the summit.
Essential Gear
Water. Boots.
External Links
Add External Links text here.