Overview
Aiguille d'Orny 3167 m
Aiguille d'Orny is a rocky peak belonging to the Mont Blanc massif, located West of Orsières in the canton of Valais Swiss side. It lies North-East of the glacier called Plateau du Trient on the chain between Arpette Valley to the North and Combe d'Orny to the South. This chain named Arpettes spreads in eastern direction coming from Trient glacier and shows a set of rocky spires overlooking from North the Cabane d'Orny, a Swiss Alpine Club shelter.
The summits lined along the ridge from West to East are Aiguille d'Orny (3150 m), the jewel of the climbing sector of Cabane d'Orny, without name on French official maps and Pointe de la Cabane. From the top of Aiguille d'Orny a shoulder starts heading toward SE, forming a wall facing South. This wall is engraved by a series of couloirs and secondary ridges and spurs that offer different superb climbing routes: South Classic, Jeremiade, quiche Moraine and the carpet (from left to right). South Classic is the easiest.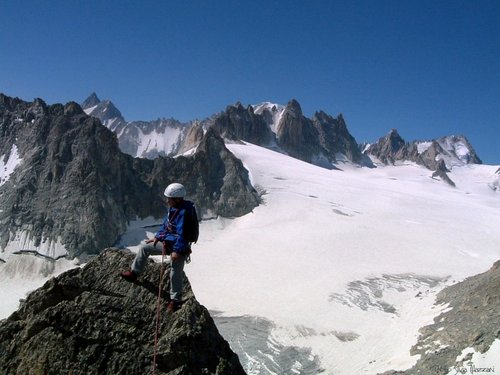 Developed by the Cabane d'Orny guardian Raymond Angeloz, the climbing routes run on an extraordinary structured and colored granite.
The highest point near the Trient hut is the rock chaos of Pointe d'Orny 3271 m. No comparison with the fine shape of the Aiguille with the same name. In eastern direction we find the Arpette collar, the Arpette needles with Aiguille de la Cabane, the Breya collar and the Breya summit near Champex.
Getting There
The starting point is the small village of Champex m. 1466, near the town of Martigny (Switzerland).
Road approach
- From Milan and Turin: follow the A5 Motorway. Exit Aosta Est and follow the road S27 towards the Tunnel of Gran San Bernardo or the Col of Gran San Bernardo, getting to Martigny and Champex.
- From Chamonix: follow towards North the road to Argentiere and the France-Switzerland border, getting to Champex.
Walking approach
From Champex mt. 1466 you can get by chair-lift (in summer open from 8.30 AM to 17.15 PM) to the upper station of La Breya and then follow the good trail to the Cabane d'Orny (2,15 hours from Champex).
Alternatively the approach entirely by walking requires 4,30 hours from Champex to the shelter. The hut is situated in a spectacular position, overlooking the Orny Glacier and Petit Clocher du Portalet, near the small lake named Lac de l'Ancient Cabane.
Info about the chair-lift: Chairlift La Breya


Routes overview
There are 8 climbing routes about 200 meters long on the spire. Maybe the best route is Geremiade on the SW face.
All the routes' reports are written in a big notebook at Orny hut.
Other best known routes :
- Classical SW face D
- Jérémiade SW face route TD/TD+
- Quiche moraine TD/TD+
The rock is ochre, sometimes a bit fussy but the climb is very homogeneous.
Climbing in the Orny sector
There are many other climbing possibilities in the Orny sector :
1) Plan de l'Arche : 20 routes
2) Les Calanques : 1 route
3) Ecole d'escalade : 16 routes
4) Côté Parc : 5 routes
5) Aiguille de la cabane : 5 routes
- Bon accueil
- Tichodrome
- Namaste
6) Gendarmes d'Orny : 11 routes
7) Côté Jardin : 10 routes
Red Tape
There are not particulary restrictions in climbing and hiking.
When To Climb
The best period goes from middle June to the end of September
Hut
- Cabane d'Orny m. 2831 SAC (Swiss Alpine Club "Les Diablerets")

Situation: Swiss side of Mont Blanc Group - Left shore of Orny Glacier, between two little lakes
Open: open all year long, guarded in summer from 10.06 to 20.09
Size: 90 persons + 30 in the winter-shelter
Guardians: Patricia and Raymond Angeloz - Pradurand 1991 Salins
Hut's phone : 0041 277831887
Guidebook and maps
-Guidebooks
"Monte Bianco classico e plaisir" by Marco Romelli - Idea Montagna edizioni

"Schweiz Plaisir West" by Andreas Mürner – Edition Filidor, 2012
"Schweiz Plaisir West" by Jurg von Kanel – Edition Filidor
"Entremont Escalades" by Olivier Roduit, 2011
"Guide du Valais - du Trient au Nufenen" by Hermann Biner, 1996
-Maps
IGN 3630OT Chamonix - Massif du Mont Blanc
Swiss National map 1:25 000 Sheet 1345 Orsières
Swiss National map 1:50 000 Sheet 282 Martigny
Meteo
Meteoswitzerland
Webcam Tele Champex
Meteo Wallis
Meteo Chamonix
style="display:block"
data-ad-format="autorelaxed"
data-ad-client="ca-pub-6523272176520096"
data-ad-slot="7132222476">