News
12th March 2008: Added section mountain conditions.
14th Feb. 2008: Renamed the summit to Osterhorn - Hoher Zinken and added new pictures.
Overview
Osterhorn is a 1.746m high summit in the Osterhorngruppe, Eastern Alps in Salzburg. It is easy to reach without any difficulties. On the way from Laemmerbach you get to Genneralm with a lot of nice huts with good food. From there you can hike several mountains in the region like Gennerhorn (1.735m), Gruberhorn (1.732) and Regenspitz (1.675). It is also possible to reach Genneralm by car but it is a toll road. On the way to Osterhorn you reach Hoher Zinken, 1.764m. Only a short ridge seperates both summits.
You can hike Osterhorn from Mai to October.
It's also a nice trip with skies in winter.
Views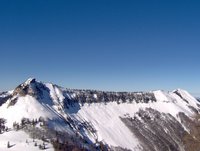 Routes
From North:
Way number 10 from Laemmerbach (801m) leads you to Genneralm (around 1.300m). From there you take the way W840 ('Arnoweg') in direction east. You get to the summit of Hoher Zinken (1.764m), have to go down about 100m of height and further up to Osterhorn (1.746m)
Way number 856 from Abersee (558m) to Zinkeneckalm (1.162m) and Osterhorn (1.746m)
From South-East:
Way number 840 ('Arnoweg') from Postalm takes you via Pitschenbergalm (1.449m) and Pitscherberg (1.720m) to the notch between Hoher Zinken and Osterhorn at about 1.660m. For Osterhorn you go up east.
Getting There
On the highway A10
(from Salzburg to Carinthia) you take the exit Golling and go to direction Abtenau until you reach Voglau. There you turn left in direction of Postalm.
On highway A1
you take exit Thalgau or Mondsee and go to direction St. Gilgen on Wolfgangsee road (B158). Turn to direction Faistenau until you reach Hintersee, take the street left to the church until Laemmerbach (801m).
Huts
Genneralm:
many huts at around 1.300m; most offer food, some offer overnights as well
Postalm:
Skiing area with a lot of infrastructure
Pitschenbergalm
, 1.449m
Maps
Mayr Hiking Guide 76
St. Gilgen-Strobl/Postalm-St. Wolfgang
1:35.000
Mountain Conditions
Panorama Pic
Gaissau Hintersee
Weather
Hintersee
Links
Postalm