Overview
Congress designated over 100,000 acres of land as a wilderness area in 1984. Utah's portion is called Paria Canyon and Arizona's is the Vermilion Cliffs National Monument.
The
Paria Canyon-Vermilion Cliffs
Wilderness is 112,500 acres of gorgeous land located in Southern Utah and Northern Arizona that contains Wire Pass, Buckskin Gulch, North and South Coyote Buttes, Cobra Arch, Steamboat Rock and the Paria River from Highway 89 to the south as well as many other attractions. It is near the Grand Staircase-Escalante National Monument, so close in fact that the two areas are often confused. The Coyote Buttes Special Management Area lies in both Paria Canyon Wilderness and Vermilion Cliffs National Monument and is located south of Buckskin Gulch, east of Coyote Valley (House Rock Valley Road), north of Poverty Flat and west of White Pocket. The Paria River ("muddy water" in Paiute) flows through the wilderness area and then flows toward the Colorado River at Lee's Ferry, Arizona.
Paria Canyon is well known for it's hiking and canyoneering, but it is also important for it's historical, geological and biological and paleontological treasures.
Getting There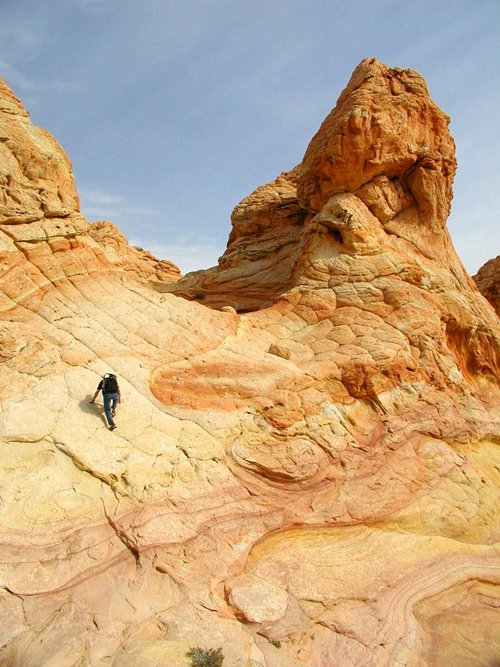 Paria Canyon Directions
From Kanab, drive 40 miles east on Highway 89 and turn off on the right side between mile markers 25 and 26. This is House Rock Road.
More driving information
Vermilion Cliffs National Monument Directions
Drive Highway 89 and Highway 89A from Page, Arizona for 30 miles to the south and west. From Kanab, Utah, take Highway 89A south and then east from Jacob Lake.
Road Conditions
BLM Kanab Field Office at (435) 644-4600.
Coyote Buttes Special Permit Offices
Arizona Strip Field Office
345 East Riverside Drive St.
George, Utah 84790 435.688.3200
Kanab Office
318 N 100 E
Kanab, Utah 84741
435.644.4600.
Paria Contact Station
Located south of Highway 89
between mile post 21 and 22,
43 miles east of Kanab
Maps
Trailheads
Elevation Range: 3,100 to 6,500 feet
Red Tape
Coyote Buttes Special Permit Area
North Coyote Buttes and South Coyote Buttes have limits of 20 people per day in North Coyote Buttes and 10 per day in South Coyote Buttes. South Coyote Buttes will be changing to 20 people per day as time for red tape allows. Although this seems harsh, remember that this is a small section of land in a popular wilderness area and if more were to visit, the pristine, remote experience would be lost.
Fee Information -
Obtain Permit
Wilderness Area Guidelines
*A great option is the ability to pick up a day use permit for some hikes, using self-serve envelopes at each trailhead. There are no visitor use limits for day use. Advance permits are required to visit Coyote Buttes.
*Advance permits are required for overnight use.
*Group size cannot exceed ten.
*Campfires are prohibited.
*Camping is not allowed in Wrather Canyon.
*Use existing campsites only and they must be at least 200' from any water source.
*No camping near archaeological sites.
*Human waste bags are given to those that ask at the Paria Ranger Station, Kanab Field Office and Arizona Strip District Office. Please pick some up and use them in this pristine area. Pack all your trash out including toilet paper.
*Wilderness is closed to motorized and mechanized vehicles and equipment but open to pets. You must collect all pet droppings.
Camping
Stateline Campground
This is a nice little campground but it's first come first use and there are only four spots so if you want to stay here then you will want to arrive early and set up camp. Two sites are in Arizona (the nicer ones) and two are in Utah, thus the name Stateline Campground. Drive 10 miles from the turn-off at Highway 89 to get to the campground. There is no water but there are vault toilets and shade trees. The Arizona side has nice gazebos and tables, but the Utah side is more primitive. It is open year-round. There are also fire pits, so fires are permitted. Camp fee: $0 Sites: 1 walk/3 drive in. There is no trash collection.
White House Campground
From Kanab drive east on Highway 89 for 43 miles and turn at the sign indicating the Ranger Station, located on the right side of the highway. Drive the dirt road for 2 miles to the campground. It is open year-round. There are restrooms and fire pits. Camp fee: $5 Sites: 5 tent sites. There is no water or trash collection.
Dispersed Camping
Dispersed camping is allowed in existing sites on BLM lands. Do not drive off the roads.
Lodging and Commercial Camping
- Paria Canyon Adventure Ranch
More Information
Official Paria Canyon/Vermilion Cliffs Website
Bo and Tanya's
Paria Canyon/Vermilion Cliffs Information
info
Paria Movie Set
Several western movies were filmed in Paria Canyon during the 1940's to the 1970's including 'The Outlaw Josey Wales' (1976), 'Sergeants 3' (1962), and 'Buffalo Bill' (1944). In September of 1998, flash floods caused damaged to the set, but volunteers rebuilt. The Paria Movie set was destroyed again, this time it burnt down and efforts are underway to again rebuild.
Coyote Buttes and Nearby
South Coyote Buttes
The Wave (North Coyote Buttes)
North Coyote Buttes
Outside the Permit Area
Buckskin Gulch and Paria River
The Paria River is one of the major tributaries of the Colorado River and Buckskin Gulch is one of the main tributaries of the Paria River. Often touted as one of the longest and deepest slot canyons in the world, Buckskin Gulch is a spectacular hiking/canyoneering adventure. Many combine a trip through the Paria River with their Buckskin Gulch hike. Hiking from Wirepass to the White House Trailhead can be done in one long day by very fit people or more often it is done as an overnight backpack. The lower section of Paria Canyon can be explored as well. If you want a longer hike, simply turn south where Buckskin Gulch meets the Paria River and you can hike the 30 miles to Lees Ferry.
Longest Slot Canyon in the World?
Wire Pass
If you are lacking the time or energy to do a longer hike you might opt to do the Wire Pass Trail. Just obtain a permit at the trailhead. There is no need to get a permit in advance.
Wire Pass Petroglyphs
It is 1.75 miles through Wire Pass until you reach the confluence with Buckskin and the Wire Pass petroglyphs. The petroglyphs can be found under the large alcove that is obvious in the wide open area. Turn around at this point and go back to your vehicle if this was your target for your day hike.
The Wave
Although the Wave is the most popular area of Coyote Buttes there is so much more to see.
The Wave is probably the most popular destination in the Paria Canyon/Vermillion Cliffs Wilderness area with both Arizona and Utah claiming parts of it. Although many think of just the area pictured here as the "Wave," it is actually includes the area around it as well. Just like the rest of the permit area there are no trails, but instead you make your way using a trail description and the many cairns set out so hikers do not get lost along the 2.5 mile one way trip to their destination, the beautiful sandstone waves of stone they have seen in many photographs. You will want to prepare to hike farther however, because you will want to explore more than just the one pocket pictured here. The target is located at the northwestern edge of Top Rock and the eastern edge of Sand Cove.
GPS
36.99620
-112.00627