Overview
Parker Lake is a popular hiking destination in the Mono Lake area of the Eastern Sierra. It is a relatively short easy hike that arrives at a marvelous pristine alpine setting with towering Mt. Wood, Parker Peak and Mt. Lewis rising to the south and west sides of the lake. This is also the first portion of the trail to north Mono Pass up through Bloody Canyon passing on the right side of the lake. 
Parker Lake can be approached from Silver Lake or Parker Creek trail heads.
The route here features the Parker Creek trail and a trailess jaunt around the lake clockwise. The hike can be done inside of 2 hours but to really appreciate it and circle the lake I put in the time of half a day.
Getting There
From the junction of Hwy. 120 and Hwy 395 go south on 395 4.3 miles and turn right on Hwy. 158 at the June Lakes Loop sign. Go 1.3 miles and take the Parker Lake dirt road on the right (passable to all cars) 2.4 miles to the trail head parking.
Route Description
This is a well maintain trail that starts out in a sandy sagebrush setting and meanders up through occasional foresty areas to Parker Lake. A scetchy use trail goes around the lake. Return on the trail again at the northeast end of the lake.
Anticipate 4 miles round trip with 600 ft. el. gain to the lake and back. Add on 2 miles if you circle the lake. The elevation of Parker Lake is 8,300 ft..
No permits are required for this hike.
Essential Gear
Just appropriate clothing for moderate Sierra day hiking. Taking into account the rapidly changing nature of mountain weather. Day pack with water snacks raincoat etc.
Weather forecast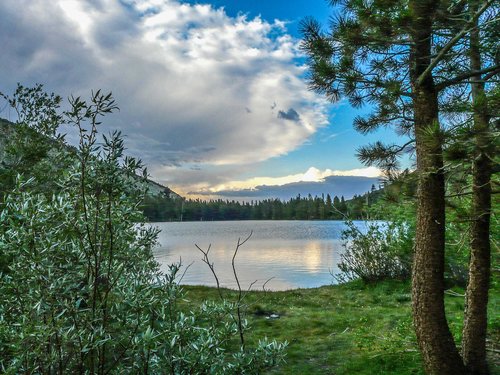 For the June Lakes current weather forecast and 5 day forecast
click here
.