Overview
Patrick Butte is the tallest mountain in this corner of the Salmon River mountains, and there is nothing close by that is nearly as tall. With this height and isolation, Patrick Butte is visible and identifiable for miles, and from the top you get a really huge view.
Although it is climbed from McCall, it is actually much closer to Riggins. But you can't really get there from Riggins.
This is snow country with a long dirt-road drive in and a long approach, so the climbing season is somewhat limited. Check the link to the cam in the Links section for current conditions.
Overall from McCall, it's about a 30 mile drive and an 8.5 mile approach with an actual gain of 1700', but with an extra 1000' due to the rolling terrain. That's one way, so plan on a long one.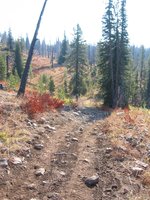 Getting There
The closest major metropolitan area is Boise.
From Boise, drive 100 miles up Highway 55 to McCall. Beautiful highway, but often crowded and very twisty.
From McCall, go 6 miles north on Hwy 55 to Brundage Mountain Road and turn right.
Follow this paved road for 4 miles to Brundage Mtn ski area, bu do not turn into the ski area. Insead, go straight, and the road turns to gravel.
Follow the gravel road for 2 3/4 mile to a fork. Take the left fork to the west side of Brundage reservoir, heading for Goose Lake. Follow the road for another 18 miles to the trailhead at the end of the road.
Advice: Before doing all this, get a Payette National Forest map.
We drove a VW Jetta in here without problems or really much hesitation, but it is rough.
Red Tape
None.
[img:527532:alignleft:medium:Panorama with summit on left]
[img:527531:alignright:small:Close-up of summit]
Camping
There are a variety of Forest Service campgrounds along the road, as well as lots of opportunities for primitive camping. Again, refer to the FS map.
Or stay at one of the many hotels in McCall.[img:527538:alignright:medium:Route map]
External Links
Payette national Forest
City of McCall
Splattski trip report with pictures
Brundage Mountain web cams (including McCall)
Idaho road conditions
For additional information on this climb and other peaks in the area, please see Tom Lopez's excellent book, Idaho: A Climbing Guide.
Route
Fro the trailhead, follow the very obvious ATV trail for about 2-2.5 miles to Warm Springs Saddle. This section is easily ridden on a mountain bike.
You can ride a bit further, but you will have to carry your bike over sections. If you are an excellent rider and tough as nails, you can continue doing the hike-a-bike most of the way, but the less determined will stash their bike and start walking soon after Upper and Lower Twin Lakes, which are under Hard Butte. From there, the trail meanders and at one point disappears. Right in the empty space, there is supposed to be an intersection (but you just walked past it). So watch your map.
After a while, the trail re-appears and you can continue past Paradise Lake to a saddle with a great view of the peak. There are a variety of routes possible, with the west face looking the most probable. however, the south ridge is easier than it looks and a better line.
Weather