Overview
Peep Sight Peak is a summit located in the Carson-Iceberg Wilderness, south of Highway 4, and about 10 miles east of the town and ski area of Bear Valley. Though not a very high peak, it is the highest within the immediate vicinity, and provides very nice views of the surrounding peaks, especially Highland and Silver Peaks. As it would be known, this area of California is very remote and the nearest sizeable town with amenities would be Arnold, over 40 miles away. The peak becomes even more remote in winter, or more specifically, when Highway 4 is closed east of Lake Alpine, which is usually from November to May. This creates a minimum 10 mile approach necessary to reach the peak, unless you have a snowmobile. Yet, even in the summer, you are likely not to see anyone else on this mountain. Peep Sight Peak is also located in close proximity with three other main summits: Lookout Peak (9,577 ft), Henry Peak (9,327 ft), and
Bull Run Peak
(9,495 ft). These peaks can all be bagged in one day. This involves 10 miles of hiking on almost all cross country terrain. If just Peep Sight Peak is the objective, the hike is about 7 miles roundtrip, with about 2000 feet of gain.
Getting There
Take Highway 4 east from Highway 99 in Stockton into the mountains for 95 miles to Bear Valley. One mile after Bear Valley, the highway passes Lake Alpine and becomes a one-lane road. This marks the winter closure spot. Continue on another 10 miles of narrow, winding road. The road will climb over Pacific Grade Summit (8,050 ft) and descend into a valley. The Pacific Valley Campground is located about a mile after the summit, in the valley. The campground is usually open once most of the snow melts out. Turn right onto the campground road and drive about .75 miles to the Pacific Valley trailhead parking area. There are campsites, toilets, and wilderness info boards here.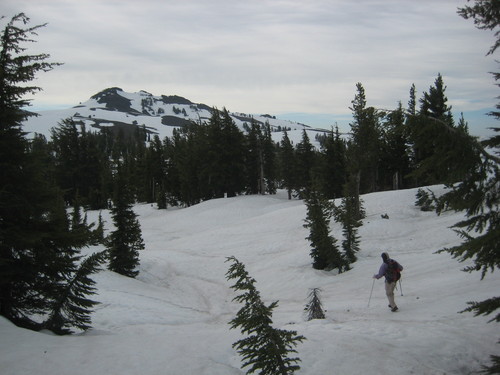 Red Tape
There are no permits needed for day use in the Carson Iceberg Wilderness, however, permits are required for overnight use. These can be picked up at the Ranger Station in Bear Valley.
Camping
Camping is allowed anywhere within the Wilderness. There is a campground at the trailhead, and these require no fee at the moment, however, that might change for the next season. Check the forest service
website
for the latest info.
When to Climb
Peep Sight Peak is usually climbed when Highway 4 is open, which is usually from May until to November. I would imagine almost nobody has ever climbed this peak in the winter due to the very long approach from anywhere required to get to it. Mid-summer would be the hottest time period. Fall would bring cooler temperatures. Expect a lot of lingering snow cover in the spring.