I've got MH EV2 tent for sale. Its been used only 6 times ( six nights ) on Aconcagua, and no where else.
The entire tent is "like new" with one issue. In one of the high camps, while cooking, a strong wing gust knocked down my stove and it melted two, 2 inch vertical holes in the floor vestibule portion of the tent. It is a very easy fix and I got the ultra strong Tenacious Tape to fix it ( pro. grade tape designed for a tent repair ). I didn't want to tape it yet, just to show on pictures the extension of the damage.
See pictures below.
Besides that the tent is
flawless
. The poles are
spanking new, no dents, scratches or cracks
. Same goes with the tent - the entire body of the tent is
free of mold, discolorations, hole
s.
The tent is coming with everything originally included in the tent - stakes, poles, the tent itself and the pouch to store everything in. I still have tags on it.
ADDITIONALLY I am including a ground sheet with the whole setup.
LINKS TO THE TENT:
http://www.mountainhardwear.com/EV%E2%84%A2-2/OU9493,default,pd.html
LINK TO THE GROUND SHEET:
http://www.mountainhardwear.com/EV%E2%84%A2-2-Footprint/OU3101,default,pd.html
The tent and the ground sheet retails for 712 plus tax. I really want to sell it for $500.00 but please make me an offer.
I am selling it because I am retiring from Big Mountain adventures for now, so this tent will be collecting dust.. :/. Overall it was a fantastic tent. Got me dry and comfortable on the mountain. I used it all way up to 18.500 feet ( from there it was Berlin-Summit ) Really easy to set-up ( storm proof setup ), ultra light ( possibly the lightest and strongest mountaineering tent up to date with the Scandium Aluminum alloy
http://www.mountainhardwear.com/Atlas-Poles/AtlasPoles,default,pg.html
technology ) - min. weight is 4 pounds 5 oz.
PICTURES
THE TENT: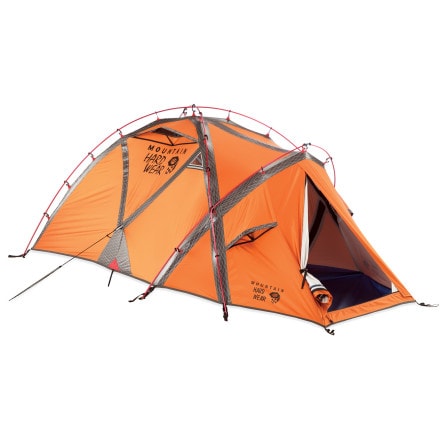 THE MELTED HOLE
CLOSEUP
THE TENT
IT IS PRETTY SPACIOUS INSIDE
ON ACONCAGUA
Feel free to drop me a note if you are interested. I can also give you references as to my credibility. Preferably local pickup ( Boulder, CO area ), if you want me to ship we will need to chat over the phone first.
My email is
frombug
( the
at
symbol )
g mail
( dot )
com
. Feel free to ask for more pics.
Thanks for looking!