Dan, if you lived in the States the above answer would've been funny...seeing as you're coming from far away, let me give you something more constructive. AZ is probably the 4th or so state in the lower 48 as far as quality of rock climbing goes...what tickles your fancy Dan? You like granite domes or sandstone towers?
Two places we like going to are Sedona (~1.5hrs north of Phoenix) and Cochise near Benson, AZ (about 3 hrs SE of Phoenix). Others will offer many additional ideas (Paradise Forks = basalt single pitch crack climbing for ex):
http://www.summitpost.org/custom-object/584336/RPC-s-Sedona-Climbing.html
http://www.summitpost.org/custom-object/170935/RPC-s-Cochise-Stronghold-Outings.html
EDIT IN: many of the crags are/will be closed in April for bird nesting here.
Oh and you should get those visions of Dirty Harry scaling the Totem Pole out of your head - the Navajo will throw you in jail for climbing their shit.
There's a shitton of other climbing, much of it right in the Phoenix suburbia...but if you want quality multipitch, put in a bit of driving.
An OK guidebook to the whole state is Rock Climbing Arizona by Stewart Green ....marginal in quality but the best for the state as a whole. If going for Cochise, check mountainproject.com and you can just download the best topos out there for free.
Enjoy!
Sedona: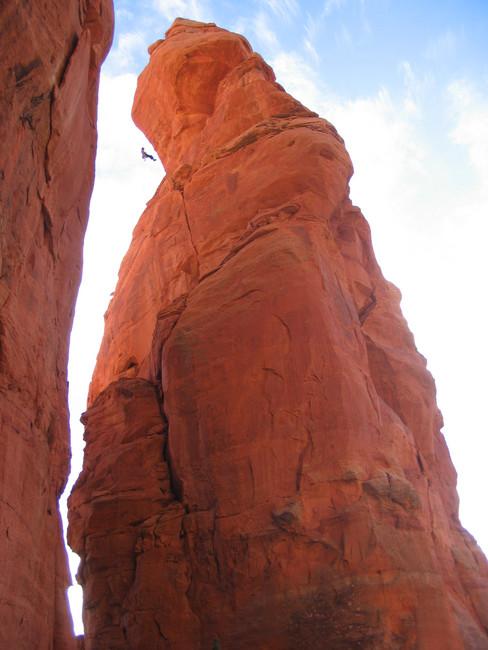 Cochise: