Any ideas? Here's the problem:
About 11 days back, after a day of sitting in planes and rental cars, I walked across 5' of lawn and had a sudden sharp pain on the outside of my right foot, in the area indicated by the green mark below: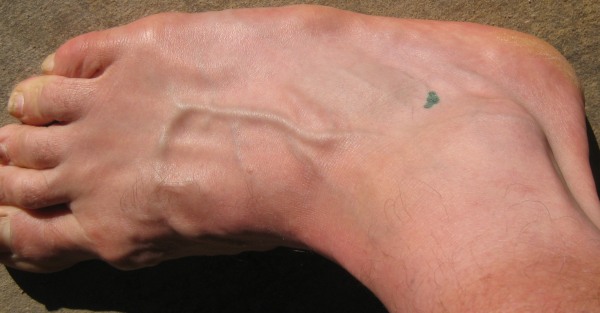 The pain is hard to localize; it is obviously referred, but is perhaps a little forward (toward the toes) of the green mark.
A day later, I was limping a bit, but took to walking in tight figure 8s, then when the pain subsided, I was able to run 6 miles without pain. I ran two more circuits (6 and 4 miles) in the next week, without significant pain while running -- but I had occasional, sudden sharp tweaks in the same spot, when I put weight on my foot and more or less stood on the outside edge.
I thought the problem was gone, but yesterday I twice reactivated the injury by the same means, and both times, the pain largely went away as I walked.
Today I was able to use a wobble board; initially the pain was sharp, but then went away as I went clockwise on the board. The pain is more noticeable if I go counter-clockwise.
I've had just one real ankle sprain in my life (Nov 2009), and that was a bad grade 2, with high-ankle symptoms and lots of bruising. I've reinjured that same ankle slightly, 2x between then and this recent injury, but I've never felt pain this "low" in the foot.
My right foot is partly paralyzed, and I have foot drop which makes it more prone to injury than the left; usually I keep good conscious control over my foot position, but am inclined to forget if I have been sitting or talking for a long time.
Thanks-- will try to see a doctor this week. I'm supposed to go on a trip this Saturday, and am trying to decide if this is something that will hinder me a lot.