As Laura ('Princess Buttercup') pointed-out, the "Beautiful Sierra Spring Conditions" thread has run it's course, as we head into Summer.
I'll start the ball rolling with a Mt. Lamarck TR...
As some of you may know, in mid-April I attempted this trip, only to turn back below Upper Lamarck Lake, due to dangerous snow conditions. This time would be different!
Friday morning, I headed-out from North Lake parking area. I made it to Upper Lamarck Lake by 10:30, set-up camp, ate lunch, and headed up towards Lamarck Col to do some recon, so as to be familiar with the route for the next days climb.
Upper Lamarck Lake, with Mt. Lamarck (13,417ft) in the background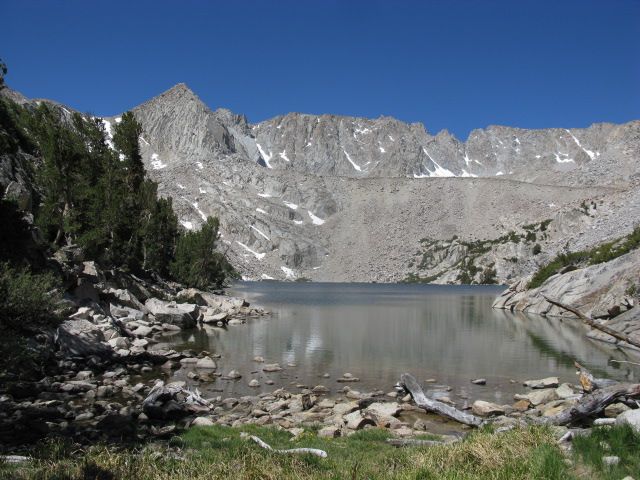 Campsite near the lake. If you look to the left of my pack, I did bring my 'camp stool' (aka Bear Vault). One never knows when a bear might show up, and it's rude not to offer a guest a seat (especially since he wouldn't be getting anything to eat)!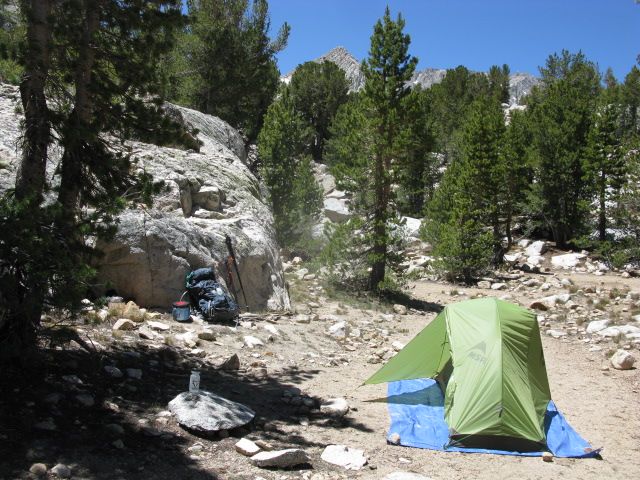 The 'cross country' route -actually a unmaintained trail- to Lamarck Col is a strenuous 3 miles (give or take).
A quarter mile from the lake, 38 switchbacks take you up this steep rocky slope
Reward: a great view of Upper Lamarck Lake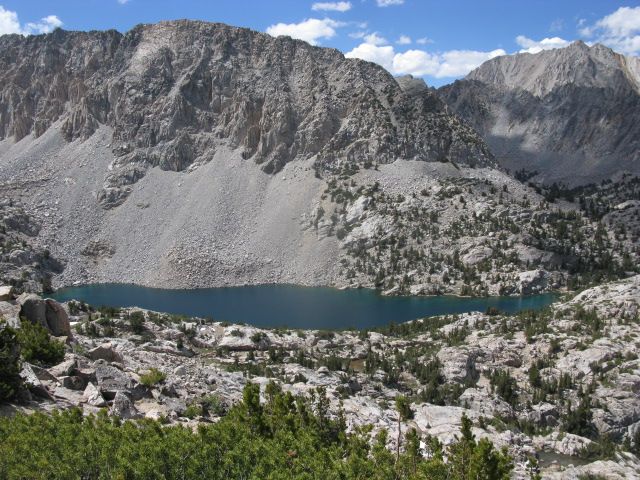 Lamarck Col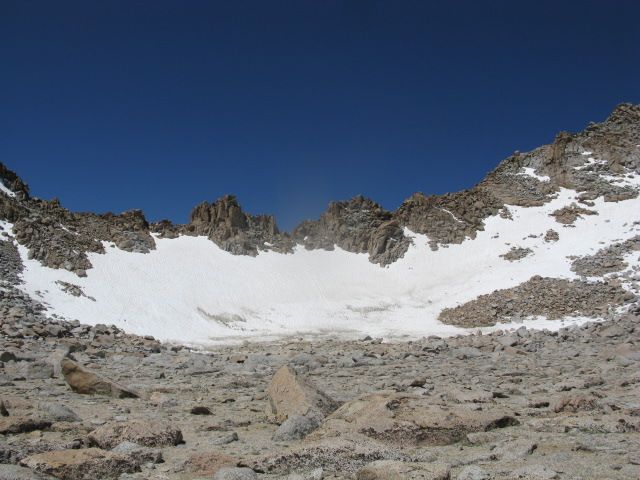 After making the approach to the col, I turned right and headed for Mt. Lamarck's southeast slope.
It's roughly 600ft of climbing to gain the summit plateau, mostly class 2 talus, with the final 150ft class 3 boulders.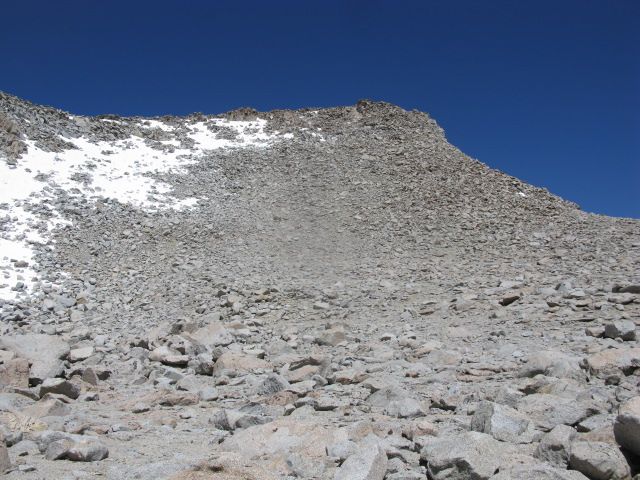 Once atop the summit plateau, a problem presented itself: which of the five visible high-points was the true summit? According to the Tom Harrison map I brought, the one I was standing on (to the southeast of the North Couloir) should be it. Search as I might, though, there was no trace of a summit registry. Looking to the north, I noticed two separate summit blocks that were both obviously higher than where I was.
Maybe it's one of these?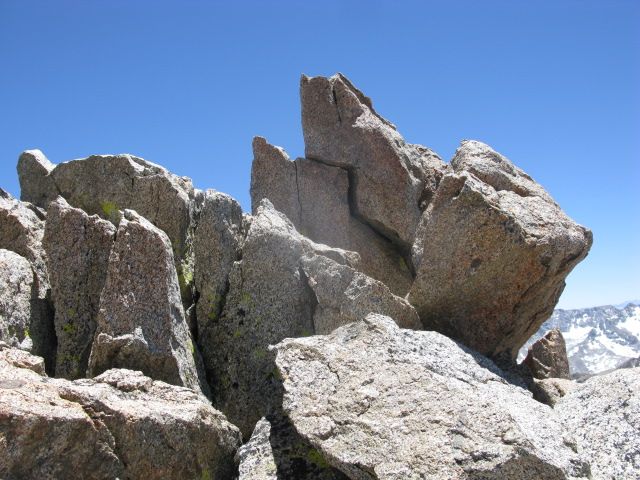 After failing to find the registry, I contented myself with lunch and a couple more pics.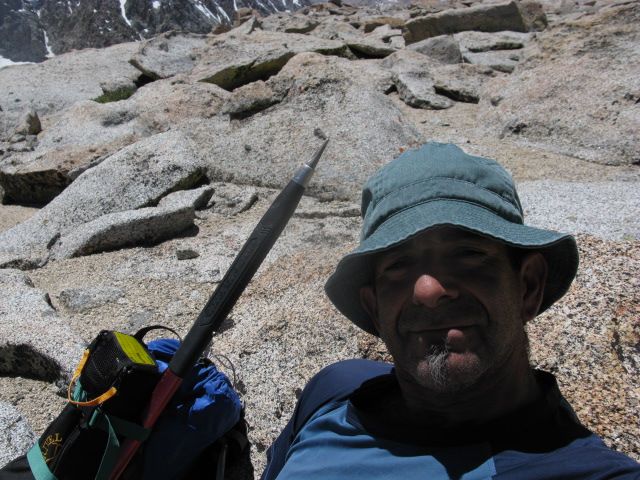 Mt. Darwin and Mt. Mendel from the summit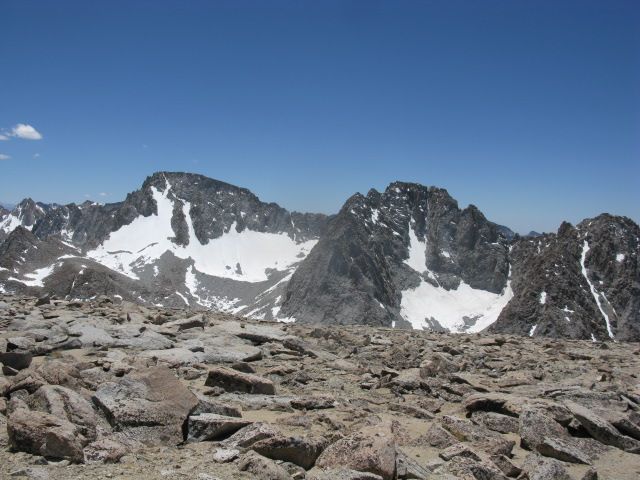 The total time from my base camp to the summit and back was seven hours. By the time I got back, I was exhausted. Much respect to those who do the peak "car to car" in a day.
This morning I made the leisurely descent back to North Lake, had lunch in Bishop, and drove home. Fun trip!
On a more sober (and sombre) note, here's hoping that overdue hiker Adam is found safe. If I have the facts correct, he's 19, has no map (!), is unfamiliar with the area (Piute Pass area), and has been missing since June 16.