Over the past couple of years I have done alot of research into plants, in my area anyway, that are edible, have medicinal uses etc. I was interested because I think it's always good to be as prepared as possible when hiking, etc. I thought I'ld post a couple of fairly common wild plants (again stuff located in my area, Eastern Canada, but also other places). Always check before trying any wild plant for consumption! Be absolutely sure of what you're touching! Mistakes can be deadly! Here are a few which may or may not ever be useful to you 9you never know when seemingly random information can prove useful):
Yarrow
- TEA : (leaves, flowers) used for a tea can induce sweating, maybe increase appetite, help with kidney and urinary tract problems, also liver problems. Ulcers,colds, flu, abdominal cramps, abscesses, trauma and bleeding.
POULTICE: wounds, cuts, scrapes, rashes, and burns.
OTHER: added to bath water for hemorrhoids, conditioner, excess use can cause skin to be sensitive to the sun.
Burdoc
k-TEA: (leaves)treating indigestion,bladder pain, fluid retention, and gout. Stimulates eliminatory organs treating swollen glands, inflammatory conditions, rheumatic conditions, liver, hepatitis, jaundice. Stimulates the secretion of bile. (roots)effective liver cleanser and stimulator. treats respiratory tract conditions, asthma, boils, cancers,eczema and fevers. Helps eliminate poisons from the system and helps treat skin disease. Excellent blood cleanser. Aching joints. Diuretic.
POULTICES: swelling, sores, tumors, bruises, inflamed surfaces, draws out infections and toxins.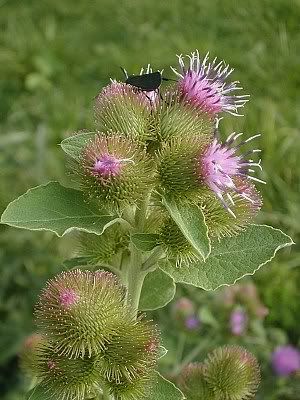 Lambs Quarters
- (leaves) TEA: leaves stomachache, diarrhea.
POULTICES: burns
Daisy
- (leaves,flower buds, young stalks) TEA: diruetic, swollen feet, coughs, cold, week digestive system.increase appetite and metabolism, calming effects.
POULTICE: use the tea as a poultice to help against bad healing wounds, rashes, and skin inflammation. can be an irritant to the skin.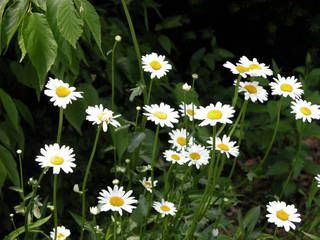 Violets
- (flowers) TEA: coughs, bronchitis (gargle) sore throats. laxative, insomnia, aspirin like effects for head ache and neck pain.
POULTICE: muscle pain, skin eruptions, sores.