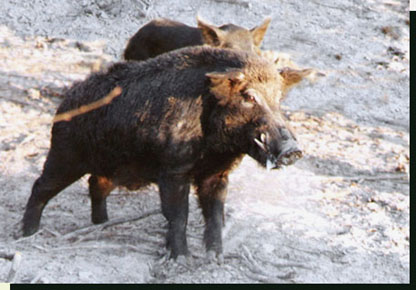 I didn't have my camera, but I'm grateful my dogs and I returned home without a scratch. Most weeks we go on more than one trail run, either 10 minutes to my west in the redwoods, or 10 minutes to the east in the Diablo range. Today we headed to Coyote Lake-Harvey Bear Ranch. While roaming the oak savanna interspersed with oak woodlands, we have seen coyotes, foxes, bobcats, turkeys, deer, owls, hawks, vultures, various smaller birds, jackrabbits, squirrels, salamanders, tarantulas, rattlesnakes, and feral pigs.
This was one of those days when wisps of fog lay between us and the valley floor below. A herd of deer caught the attention of my Kelpie, Marley, and I paused for a moment to observe them wander through dry grass and into a grove of oaks as she trotted toward them, resisting the urge to pull with full force against the leash that tethered her to my waist.
We were almost two miles in, and over the summit of Mummy Mountain when I lamented that I again was taking the beauty of this place for granted compared to all of the far off places I am sure to grab my camera for. I then made the unprecedented decision to retrace my steps and return to the truck to retrieve that darn smart phone my wife got for me. It actually had something I wanted—a decent camera. Little did I know that I was risking more than sore muscles.
About a minute into the return jog, two feral piglets crossed the trail about 50 yards down-trail from me. I instinctively stopped in my tracks. I have encountered feral pigs many times and they have unfailingly run away. I roughly knew what would follow the two little ones, but what happened next was unexpected.
Instead of more cute little brown piglets and a few adults continuing onward perpendicular to my path, the biggest sow I have ever seen appeared from behind the oaks, crested the ridge onto the trail and turned toward us. Without pausing, she charged at us, head up.
My next move was not wisest. I attempted to create more distance between myself and the pig. I can manage a decent sprint, but I'd already been running quite a distance, had gained over 500 feet of elevation, and had two dogs tethered to me who didn't intend to sprint away from the pig. Besides, pigs are faster than people. I realized my mistake and turned to face the pig. By this time it only took another second for her to be 10 feet from us. Stoutly she stood looking fiercely at us, seeming to be about the size of a wheelbarrow with a boulder in it.
My yellow lab, Dylan, pulled toward the pig, ready to embrace the confrontation, and Marley stood her ground next to him. "Noooo!" I yelled, as the boar continued to within a few feet of the dogs with head up and long teeth snarling at us. Despite my lab being a tall 90 pounds, he seemed dwarfed. Foolishly I now suppose, I was afraid for what would happen to my dogs, even though I realized my legs would be a painfully vulnerable target in another second. Then the big pig simply turned and ran away, with my little black Kelpie wanting to give chase. She trotted off to take refuge under the boughs of a distant oak at the opposite side of the hilltop with her piglets leading the way.
The dogs and I jogged to the truck to get the camera (phone). The morning still had good light and visibility for pictures, but the wisps of fog had evaporated away. As we approached the spot where the feral pig had started her bluff charge, I discovered she had left some scat behind.
The only further critter-based excitement came in the form of pesky ticks.
Mountain lions frequent my area, but I've only seen one while driving in Sequoia National Park. Elsewhere in California, I've seen elk, bears, marmots, chipmunks, western fence lizards, and trout while hiking. I suspect I'm forgetting a few.
I regularly push myself to the point that I am thankful to return to camp or to home, which often creates details that make my adventures more memorable. However, besides my dogs and I stepping right over a four-foot long rattler with my daughter in a pack on my back, this was the closest I had come to danger in the form of a wild animal, both cases in the park closest to home. Despite my wife's concerns, I still have no hospital visits or rescues to report due to my adventures in the mountains. Cycling in the hills around home….well, that's another story.