Overview
The Pindos mountain range is located in northern Greece. It is roughly 160 km long, with a maximum elevation of 2637 m (Mount Smolikas).
There are many paths - signed well but also many unsigned "sheperds paths".
Most known peaks: Smolikas (2637m), Astraka(2432), Gamila(2497).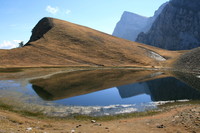 One of the most interesting place to visit is great, impressive Vikos Gorge (Vikos Canyon)
Also very interesting are traditional stone villages perched on the slopes of the mountains. Unfortunately, most of them are renewed and transformed into private pension and hotels.
One can find there many old stone bridges the villages are famous for.
This page has been contructed because there was no information about Pindos on SummitPost - I'm not an expert of Pindos Mountains. I have been there only once in september 2007 in most popular region - Vikos-Aoos National Park.

Many other infromation about Pindos you can find here:
www.pindostrek.net


So I do not want to describe things twice.
Especialy I can recommend Forum on Pindostrek.net - there you can "speak" with some natives-experts and guides - they are very helpfull and give all necessary information.
Getting There
By plane:
to Joannina
By bus or taxi:
from Joannina to one of villages (Monodendri, Mikro Papigo)
- unfortunately bus transport is rather not very comfortable because buses from Joannina to villages runs only twice a week!!
If you want to go for a multidays trekking in Pindos or for a trip wich has different start and end points it is possible to arrange some private transport especially with private pension owners.
By car:
most popular and comfortable (it is not a problem to leave our car in villages for a few days)
Remember that villages are very small and there are no shops there - so all food you have to bring with you, or buy lunchs in restaurants/hotels/refuge.
Red Tape
No special restrictions excluding standard National Park Vikos-Aoos regulations.
Be aware of sheperd's dogs - they are not pets, they are the guards of sheeps and do they job very well so that's way they may be dangerous!!!
If it's possible rather avoid them.
External Links
Many usefull information (forum, photos, trekking advices) you can find here:
www.pindostrek.net
Refuge Astraka page (temporarily under construction):
www.astrakarefuge.com
Camping
As part of Pindos Mountains is a Vikos-Aoos National Park - free camping is forbiden by law - but outside the park it is acceptable. Unfortunately there may be some problems with water - Pindos are very dry and in summer most of rivers and streams are dried.
In the most popular region Vikos - Aoos National Park you can easly find many accomodation possibilities in villages perched on the slopes of the Mountains (Mikro and Megalo Papigo, Vikos, Monodendri, Kippi).
In mountains there is a good, recently renewed Refuge Astraka standing on the ridge about 500m below the summit of Astraka (2432m).
Refuge Astraka page (temporarily under construction):
www.astrakarefuge.com
Maps
Good maps published by Anavasi:
http://www.anavasi.gr/en/
For Vikos-Aoos National Park is sheet "Zagori" 1:50000.
http://www.anavasi.gr/en/search.php?search_text=zagori
You can buy it for example in M.Papigo (in information center), Monodendri, Joaninna.
Recommended routes and places to visit
I describe only places where I was last year and path I walked.
First of all Mountains:
Refuge Astraka
The shortest,and most popular is a path from Mikro Papigo. It is well marked (signs on the trees and stones but also many mules and horses' excrements) and rather wide. It starts at the end of the asphalt road near infromation centre in M. Papigo. It takes usually 3h. This is not a demanding one just a trekking to refuge, it is also the path using to supply the refuge. I can recommend doing it afternoon - it is west side of the mountain so you can admire beautifull sunset.
Gamila Summit
Gamila Summit as seen from Dragon Lake seems to be unachievable target but from the other side it is easly accesible.
It takes about 2,5-3h to get to the summit from Ref. Astraka.
First descent to Xerlimni Lake and continue straight ahead (east direction) to Katsedoni. Here you should leave well marked path and turn left (narrow but visible path, also you can find a stone sign-post with text "Gamila"). Continue along the path which goes through the grassy and stony slopes until you reach the ridge then turn right and climb Gamila Peak.
Astraka Summit
Under construction...
Dragon Lake
One of the most beautiful place I've ever been to...
It is short walk - it takes 1-1,5h from Ref. Astraka.
First you should descent the ridge where Refuge is standing to Xerolimni Lake (there are usually many sheperds there be aware of dogs!) and then ascend opossite slope.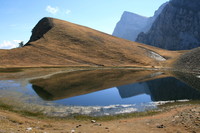 Vikos Canyon
Under construction...
The second: Villages:
Under construction...