Introduction
The Pine Mountain Trail is located in Harris and Merriwether counties. The closest city is Pine Mountain, GA which is a few miles north of the mountain on Highway 27. The main trail is 23 miles long or 43+ miles when all of the loops and connectors are taken into consideration. The majority of the trail lies within F.D. Roosevelt State Park.
Unlike other long trails, it is possible to hike several portions of the trail with connectors to form many small day hike loops of 4-8 miles. This trail is generally in great shape and extremely well taken care of by the Pine Mountain Trail Association. All trails are blazed and very easy to follow. In total, there are 13 back country camping sites with water access nearby.
Getting There
The Pine Mountain Trail intersects, and generally follows, Georgia Highway 190 from its western terminus at the Callaway Gardens Country Store to the eastern terminus at the WJSP-TV Tower. Parking is available at both ends of the trail as well as at many lots along the trail (clearly marked on the PMTA MAP).
You can reach the trail from exits 34 or 42 on Interstate 185. A more direct route from Atlanta off I-85 is also available.
Georgia State Parks Map of the area
For detailed directions to Pine Mountain Trail, you can contact the FDR State Park office at (706) 663-4858.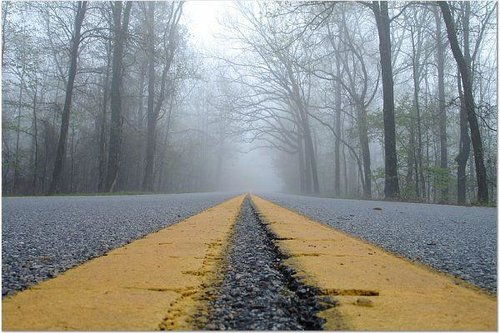 The Trail Itself
The trail, as mentioned above, offers around 43 miles of hiking over moderately hilly terrain and offers some very scenic views, great back country campsites, and clear paths and blazes. The main PMT is blazed in blue, while the connectors are blazed in white. At all trail intersection, there are very clear wooden signs that indicate distances to other trails, intersections and other points of interest. Additionally, each of the 23 miles on the main trail are marked with mile signs.
One of the most popular areas of the trail is the 4.3 mile Dowdell Knob Loop. The "summit" or high point of Pine Mountain is located at Dowdell Knob at 1395 feet.
Perhaps the most popular area is the 6.7 Wolfden Loop. However, I think many people choose to hike from the WJSP-TV tower parking lot north to Cascade Falls and the Wolf Den. These two spots are very pretty, and of course, very popular. Most people turn around and head the 2 miles back to the parking lot from here.
There are many other loops that can be turned into day hikes as well as a full through hike on the full 43 miles of trail. In general, I found this trail to be a very forgiving and has been a great place for me to test out gear and prepare for longer and more challenging hikes. Some segments have numerous switchbacks and some steep and narrow trails.
Maps, Food, Fees, and Red Tape
While the PMTA website lists several sources for getting the PMTA MAP, I found from personal trial and error that both REI in Atlanta and Kinnucan's in Columbus no longer carry these maps. That leaves you with the option to purchase one at the FDR State Park Office, via mail through the PMTA website, or at the great little hiking store, 'Hit the Trail' in Newnan, Georgia. The map is a quality waterproof topo map with a good amount of information on the routes, parking areas, water, and other info.
A very limited selection of snacks and a drinks are available at the FDR Park Office (located about 3 miles from the western terminus/country store on GH190). The country store has a nice scenic dining room with your basic "country cooking food." The only other option is to head north via car into Pine Mountain a few miles for gas stations, a couple dollar stores, and a few small restaurants. You nearest hiking store with fuel for canister stoves and prepackaged dehydrated food (Mountain House, etc) is a good distance north (about 30 miles) to the town of Newnan, at Hit the Trail.
Parking is available at numerous parking lots along the trail (you are never more than a mile or two from a parking area on GH190). The area is patrolled by State Park Rangers, so watch your speed!
Fees are $5 for back country campsites which you will need to register for at the main FDR Park Office. A few of the sites have restrictions of only 3 tents per site, but I have never had a problem in my 5 nights on the trail. You will also need to pay $3 for parking at either the FDR Park Office or at a few of the self-pay stations at many of the parking lots.
Make sure you get there early enough to get your back country trail permit and also follow the directions for displaying all parking passes and back country permits on your dash. Like I said, there are park rangers patrolling and I am sure they would jump at the chance to write a ticket. The ladies that work at the office are nice, but one day I was told I would not be allowed to get a back country permit because it was around sunset and there was weather in the area.
Sample of the PMTA Official Map
External Links
Pine Mountain Trail Association Website
If you plan to use the trail multiple times, it very well could be cheaper to join the association and enjoy free access to the back country camping sites. Additionally, they offer work days and group led hikes every month.
FDR State Park Website
Contact information, directions and other park rules are available here.
Hit the Trail Hiking Store
Closest access to canister fuel, back packing food, as well as maps and other last minute items.
style="display:block"
data-ad-format="autorelaxed"
data-ad-client="ca-pub-6523272176520096"
data-ad-slot="7132222476">