Overview
Pizzo Diei is a nice isolated peak with a good view to the
Monte Rosa
range. No many people decide to climb this mountain. In front of its peak at about 45 minutes by foot is situated
Monte Cistella
(2870 meters), another nice mountain with an old and confortable bivouac near the peak:
bivacco Giovanni Leoni
, Italian Alpin Club property. Giovanni Leoni, was a local poety, and he opened the refuge to the people the 12 august 1901. In the 2001 there was been a celebration for the 100 years! BEAUTIFUL AREA!
Getting There
Pizzo Diei is situated in the
"Alpe Veglia Natural Park"
. You can reach it:
BY CAR
- You can easily get to Varzo city from Switzerland and from northern Europe through the Simplon pass; from Milan, Genova, Varese and northern Italy by highway "A26" and by the road "superstrada/statale 33 del Sempione".
- When you arrive in "Varzo", you turn and go up to San Domenico village. In just 15 minutes you'll find yourself suddenly surrounded by marvellous nature and mountains !
San Domenico village is also the start point to "Alpe Veglia natural park", "Alpe Ciamporino", and other alpine places of the valley.
BY PUBLIC TRANSPORTATION
- You can get to Varzo or Domodossola by train, using the "Simplon" international railway line.
- From Varzo you can get to San Domenico village by local bus service called "Prontobus" or by private shuttle services provided by local hotels and residence.
When To Climb
Ciamporino-Cistella-Diei trip (very nice):
Best period: june to september
No technical equipment required.
Alpe Ciamporino 1940m - Colle Ciamporino 2283m - Bivacco Giovanni Leoni 2803m - Cima Cistella 2880m - Pizzo Diei 2906m
San Domenico chairlift Tel: 0324.780868
Refuge 2000 Alpe Ciamporino Tel: +39 0324.72466
SAN DOMENICO TOURIST OFFICE Tel: +39 0324.780809
OSSOLA TOURIST OFFICE Tel: +39 0324.248265 e-mail: ufficioiat@libero.it
---
Pizzo Diei is also a very fine ski-mountaneering summit that can be done starting from January (BSA)
Route starts from S.Domenico, pass through Alpe Ciamporino and Ciamporino Pass till the south-west slopes.
---
This route is worthly of consideration also without the aid of any telpherage (a little bit longer and harder) directly on foot by S. Domenico. Route to Alpe Ciamporino starts on the left of the telpherage bottom station, then goes up following mountain roads, mountain bike tracks and evident paths.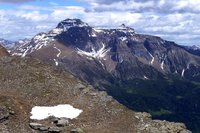 Maps and books
Carta dei Sentieri S. Domenico Alpe Veglia, della Pro loco S. Domenico - Varzo, scala 1: 25.000.


Istituto Geografico Centrale N° 11, Domodossola e Val Formazza, scala 1:50.000


Escursioni in Val Divedro, S. Domenico e Alpe Veglia di Gianfranco Francese, page 138.


Sentieri dell'Ossola di Paolo Crosa Lenz e Giulio Frangioni, page 166