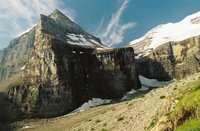 Overview
The name itself draws the mountain-minded. The scenery beats the name many times over. Yet the area is accessible just by hiking, hiking that requires just 3-4 hours (total) for people in decent shape. In the Lake Louise area, there is perhaps nothing better than this outing in terms of scenic bang for the hiking buck. And, of course, mountaineers will find along the way one or two things to tantalize them.
But the real appeal of this spot, named for, as one might guess, six area glaciers-- Aberdeen, Upper and Lower Lefroy, Upper and Lower Victoria, and Popes-- is that it is highly scenic every step of the way but also family-friendly. It's a nice alpine immersion for parents of young children who have their hands tied for a bit, and that is my main reason for posting this. The trail is too long for most kids under 5 or so (remember--
you
know best about what your kids can and cannot handle), but it would work well for slightly older children who may not be ready for something longer and harder yet, and the trail is also reasonable in length and difficulty for people using kid-carrying packs. This outing is also nice for those whose serious mountaineering days are behind them but who aren't quite ready to let go of that rarefied world of rock and ice, or for hikers who want to get into these spectacular mountains a bit but whose interests tend toward half-day trips and the safety of the trail.
It's also one hell of a nice way for first-time visitors to the awesome Canadian Rockies to get a little taste of what the area is all about without having to look too hard or go too far. It's easy to imagine this hike giving birth to a mountaineering heart.
Route Information
Tha Plain of the Six Glaciers sits at about 2400 m (app. 7900').
RT Distance:
about 14 km (8.7 mi)
Elevation Gain:
about 400 m (1300')
From the parking area, hike the trail around the right (west) side of the lake. The first 2 km are flat and will probably be busy as you hike along the shoreline of Lake Louise. After that, the trail steepens and becomes rockier, but the expanding views more than compensate for the moderate strain (easy for most people in good shape). At 5.4 km (about 3.5 mi), you reach a teahouse (I have no idea what its hours and services are and really don't care), and nearby is a great view of the Plain of the Six Glaciers. Many people stop here, but the trail actually continues for another 1.6 km (1 mi) into a jaw-dropping wasteland of rock and ice directly beneath Mount Victoria and overlooking the Plain. The dirt you may see below you is actually the silt-laden top of a glacier; look again, and you'll start seeing all the crevasses. Here and there along the last part of the hike, especially near the teahouse, a few scraggly trees remind you of the world you've left behind, but for the most part, you'll feel you're in an alien world unless you are already accustomed to such scenes.
Climbing the Death Trap, the narrow, glaciated chute leading to Abbott Pass, is a way of reaching Mount Victoria, but this is a dangerous, avalance-prone way, and the approach from Lake O'Hara, despite the red tape involved, is the better way.
Along the way, enjoy and be inspired by the views of
Mount Victoria
,
Mount Aberdeen
,
Mount Lefroy
, and
the Mitre
, among others. All these are probably beyond the skill levels and the scope of most day hikers and definitely should not be attempted just out of curiosity, but the experienced mountaineer hiking here with the spouse or the kids or just for the hell of it will get a preview of the peaks here and will surely want to return.
Crowd Control
Between around 9 A.M. and 5 P.M. on a summer day, Lake Louise is like a smaller, more-compact incarnation of the South Rim of the Grand Canyon. Hotel guests throng the shores. Tour buses dump their passengers. It is almost impossible to walk within a few yards of the lake without breaking into some family portrait. The parking lot will fill, and there may be a line at least a mile long to get into it. This is no joke. My wife and I hiked out here about an hour after dawn, and there were few other cars in the lot when we arrived; as we drove out after wading through the gibbering hordes at the lakeshore, I watched the odometer and realized with shock that the backup to enter the parking lot was already a mile long by 10 A.M.
If you start nice and early, you will also miss the teahouse crowds. You will not be able to avoid them on your way back down, but you will at least have had the best half of the trip in peace. When we went, we were the first people up there that day and had the great scenery along the trail all to ourselves for a little bit.
Bottom Line: Unless you can deal with what is described above, arrive very early or very late in the day.
Getting There
From the town of Lake Louise, follow the well-signed road to Lake Louise itself, which has a spectacular view of Mount Lefroy and Mount Victoria and a very expensive hotel on its shores.
Red Tape, Camping, and Links
2007-2008 fees for Banff are $8.90 (Canadian) per person per day and $62.40 for an annual pass good for 27 national parks.
Current and Additional Fees-information Link
This is grizzly country. It is unlikely that you will encounter a bear on such a popular trail, but it is still good to know how to act around bears (so if you don't know what I mean, stay away from here until you do). And it is better to have pepper spray and not need it than it is to need it and not have it.
The closest campgrounds are the Lake Louise Trailer and Tent Campgrounds. Some sites are reservable. If you have the dough or are looking to splurge, you can stay right on the lake at the Chateau Lake Louise for $500-1500 a night or more (Canadian; summer rates). There are other options a few miles away in Lake Louise proper, and although they are not cheap, they are bargains compared to the lakeside resort.
Links for Banff Camping and Lodging
The road up to Lake Louise is open all year, probably because of the big hotel up there. Winter trekkers will probably need snowshoes or skis, and avalanche danger is a reality.
For current conditions and other Banff-related information, use the link provided below.
Parks Canada-- Banff Site