Overview
Point 7420 is the southern-most summit in the Sandia foothills north of I-40. It offers great views of the city, South Sandia Peak, Mt Taylor, and even the Magdalena Mountains on a clear day. The summit area is quite rocky and offers some great scrambling.
New Mexico Rank:
S
Prominence:
280'
Quadrangle:
Tijeras
Rank and Prominence information from
Lists of John
Getting There
From the center of Albuquerque travel East on I-40 to exit 167 (Tramway Blvd) From the exit ramp turn left (north) and go under the highway continuing on Tramway to the 2nd stoplight at Copper Ave. Turn Right (east) onto Copper Ave and continue for approximatly 0.75 miles until the road dead-ends at the TH. There are a number of parking spots here as well as parking along the road.
Route Overviews
Both routes are on well established trails and are easy to follow with scrambling at the top. The biggest difference is the scenery along the way and the amount of scrambling at the top. These two trails are great hikes with the Waterfall Trail being slightly more difficult/demanding. I highly recommend both. For a nice tour of this area go up one trail and down the other.
Eye of the Sandias Trail:
This trail follows the beginning of the
U-Mound access trail
. It then climbs steeply up to some rocky points and to more flat and open fields. Just short of the summit there is a painting on a rock marking a popular geocache (hence the name of this trail). The final portion of this route is about a 20 foot scramble up solid class 2+ rock.
Waterfall Trail:
This trail follows the beginning of the
U-Mound access trail
and heads to the waterfall due east of U-Mound. Once above the waterfall the trail winds up and around the hills to a flat meadow then finally a saddle. From the saddle there is a short steep climb then about 50 feet of easy class 3 scrambling with many possiblilites of more difficult climbing.
Views from the summit: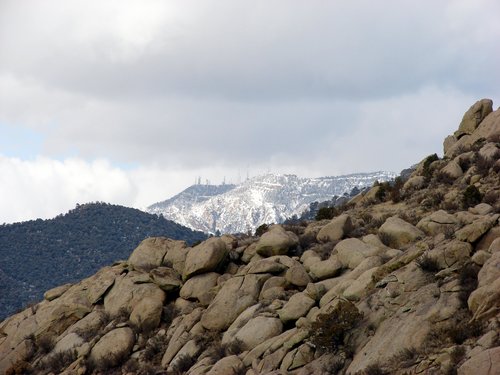 Red Tape
No permits or fees are required. Dogs should be leashed and picked up after. There are bags at the trailhead for your use as well as garbage cans.
Parking at the trailhead is limited but there is also parking along the street. However, hours are limited:
April-October: 0700 - 2100
November-March: 0700 - 1900
Camping
There are no established camping areas in the area. As this is a short hike there should be no need for camping here.
External Links
Local weather:
Albuquerque
City of Albuquerque open space info:
here
Local Search and Resuce Team:
Cibola SAR