Overview
Point 7860 is on the southern end of the Sandia Mountains. It is a seldom visited summit that requires a little bit of route finding to get there. The summit offers nice views of South Sandia Peak and the Manzanos. You will also find some solitude since you are unlikely to see anyone else on this peak.
New Mexico Rank:
1227
Prominence:
440'
Quadrangle:
Tijeras
Rank and Prominence information from
Lists of John
Getting There
From the center of Albuquerque travel East on I-40 to exit 167 (Tramway Blvd) From the exit ramp turn left (north) and go under the highway continuing on Tramway to the 2nd stoplight at Copper Ave. Turn Right (east) onto Copper Ave and continue for approximatly 0.75 miles until the road dead-ends at the TH. There are a number of parking spots here as well as parking along the road.
Route Overviews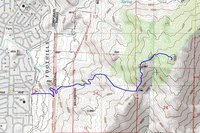 Boulder Ridge Trail:
This route follows Pt 7420's
Waterfall route
to the saddle between Pt 7420 and Boulder Ridge. Once the ridge begins to decsend a faint trail splits off leading to the summit of Pt 7860. The summit is comprised of a few boulders that can be easily climbed from the west side. Overall a fun route with great rock formations along the Boulder Ridge.
Views from the summit:
Red Tape
No permits or fees are required. Dogs should be leashed and picked up after. There are bags at the trailhead for your use as well as garbage cans.
Parking at the trailhead is limited but there is also parking along the street. However, hours are limited:
April-October: 0700 - 2100
November-March: 0700 - 1900
Camping
There is one camping area with a fire pit. However, the site is within the Sandia Foothills Openspace and camping is not allowed there. As this is a short hike there should be no need for camping here.
External Links
Local weather:
Albuquerque
City of Albuquerque open space info:
here
Local Search and Resuce Team:
Cibola SAR