Overview
This is the serrated ridge at the back end of the Argentière basin, between Mont Dolent and Pointe de Pré de Bar. The area has some high quality ice and mixed climbs that lie just left of the classic Petit Viking ice route.
I am adding this page because it seemed to be missing. Perhaps others have more local/recent/relevant info and are encouraged to share it or take over this page. Please do. Or perhaps a page for the entire Argentière Basin is in order?
Getting There
Ski to the Argentière Basin up the piste from the town of Argentière (3 hours) or take the ski lifts to the Grands Montets and ski down the right side of the piste, under the ropes, and towards the Argentière Hut. This is well explained elsewhere on this site.
Routes & References
There are four published routes of ~500m on the French side of the basin between Mont Dolent and the Brèche de Pré de Bar (which lies on the left or north side of the Pointe de Pré de Bar). Route info comes from published guidebooks and/or confirmed by firsthand experience or discussion with local climbers: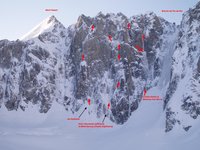 Les Barbares, 5c A2 90 degrees, 19 pitches. Climbs to the top of the 3683m point (second from the left).
Krivic-Manfreda Route, 5c mixed
with Bettembourg-Charlet variant: 5c A1 mixed
Madness Très Mince, Scottish V. Lots of steep, thin ice climbing with a pitch of mixed climbing in the middle and a rock pitch to finish.
Charlet-Ghilini Route, Scottish V. Lots of steep, thin ice climbing with a pitch of awkward mixed climbing in the middle.
Francois Damilano's latest guidebook to this area is clear and exhaustive:
Damilano, Snow Ice and Mixed Vol. 1, 2005.
Another good source of info is Lindsay Griffin's book:
Griffin, Mont Blanc Massif Vol. 2 selected climbs, 1991
Camping
Refuge d'Argentière: warm, full of character, great patio, alcohol...what more could you want? Freestyle camping on the Argentiere glacier is frowned upon and technically illegal, but is common practice amongst those wishing to spend a few days in this fabulous basin without paying hotel rates at the Argentiere Hut (great hut!, but bring cash/visa and earplugs). Camping is best along the left side of the Argentière Glacier beyond the Hut access, at the foot of the Aiguille d'Argentière. Daytrips to the climbs on this ridge are feasible with an early start from Argentière and some foreknowledge of conditions and routefinding. Most of the ice climbs here are in prime condition in the Spring.
External Links
Chamonix OHM conditions - frequently updated