Overview
Pulha Ri is a prominent, lonely and beautiful peak in central
Tibet
. It's located close to the
Friendship Highway
(FH), the road which connects the Nepali capital
Kathmandu
and
Lhasa
in central Tibet. The distance from the FH isn't more than 15km the way the crow flies and on a clear day you'll have excellent views of the peak's eastern flanks. You would think the peak has been climbed numerous times because of the short approach, but in early 2008 it was still listed as unclimbed.
The distance to the peak is deceptive though. Approaching from Gyatso La, one of Tibet's highest paved road passes, you have to walk in deep gorges which hosts wild rivers. I went for the peak in late winter/early spring and had to deal with numerous frozen waterfalls. In the warmer seasons my guess is that this approach is impossible due to the rivers.
The views from the summit of Pulha Ri is extraordinary. What about the fact that you can see
six
of the world's
8000m peaks!
In the far east the
Kangchenjunga's
massive bulk can be seen in the distance. Dead south
Makalu's
black pyramid.
Lhotse
the fourth highest looks like a dwarf with
Qongmolongma
as its closest neighbor. Further west
Cho Oyu
and far off in the distance
Xixabangma.
In addition to these giants,
Pumori
,
Phola Gangzhen
,
Gang Benchhen
and other 7000m peaks are clearly visible in the central Himalayan range. Lonely peaks in the 6000 category includes; Tanggla Ri, Kyakyaru Ri and Hlako/Lhakoi Kangri - all unclimbed.
The peak is officially 6404m, but I had 6424m on the summit. It's also sometimes called Maphu Kangri and it's prominence is 1198m.
Technically speaking, Pulha Ri isn't a hard peak, but the route finding can be tricky. To gain access to the main east ridge is a matter of taking long detours under rock bastions of really rotten rock or climb vertically on rock or ice. The peak is full with well hidden crevasses and believe it or not but all the eastern side was full of penitentes up to a meter high. This is normally a very typical South American phenomena which sometimes also occurs at certain conditions in North America. I've never encountered it in Asia before.
Getting there - to China/Tibet
It's unlikely you start from anywhere else but Lhasa, so here are some alternatives how to reach the capital on the roof of the world.
Nowadays there are many ways to reach Lhasa and it's often much simpler than the general information says.
By air
Domestic direct flights to Lhasa departs from
Chongqing
,
Chengdu
and
Shangrila/Zhongdian
. These places can be reached from lots of other Chinese cities and connections from for example
Beijing
,
Shanghai
and
Hong Kong
are good.
There's also a direct international flight from Kathmandu (Nepal) to Lhasa.
Overland - Bus
Long, hard rides from wherever you choose to arrive from.
From the north - go by train instead, unless you like sharing a crowded space with chain smoking, altitude sick people for a ride which seems to go on for ever.
From the west - It takes 58h from Ali/Shiquanhe and another 30-35h from
Kashgar.
Long and hard.
From the east - lots of travel restrictions from this side. You have to travel with a combination of many buses in order to reach Lhasa from any of the eastern provinces.
From the south - at present it's a bit hard for westerners to travel with the direct bus from the Nepali border. In the other direction it's not a big problem though.
Overland - Train
It's said to be the most advanced railway ever built. Can't comment that, but it takes you over some 5000m passes and the scenery of the northern plateau is a real beauty.
The official website about the train.
Overland - Landcruiser
Mostly used for the travel in between Nepal and Lhasa. Hundreds of travel agencies can arrange all the necessary papers for your travel to Tibet and a vehicle. The price for an overland trip from Nepal to Tibet is slightly cheaper than travel by air.
Overland - other ways of transport
Lhasa is an adventurous destination and of course it therefore attracts adventurous travelers. Many cycle or hitch to Lhasa, which of course both are nice ways if you really want to see what's along the way.
Getting there - to Gyatso La
Local bus
By far the cheapest option, if not hitchhiking. There's many buses leaving for Shigatse every day and the price (spring 2008) is 40-50Y (1Euro - 11Yuan). A place in a private "black cab" is slightly more expensive. Upon arrival in
Shigatse
you'll be asked for rides to Lhatse. The price is about the same as for the stretch from Lhasa to Shigatse.
When you arrive in Lhatse, ask for buses or minibuses to Shegar or Tingri and tell the driver you want to get out at Gyatso La, the high pass about 35km from Lhatse.
Land cruiser
If you consult the CTMA (Chinese Tibetan Mountaineering Association) they may force you to book the full package and that includes a ride with a Land cruiser. This option is of course way more expensive.
You can also rent a Land Cruiser all the way from Lhasa to Gyatso La on a private basis. Count on paying about 700-1000 Yuan/vehicle.
Getting there - to the foot of Pulha Ri
It's not far from the pass to Pulha Ri, but it's a tough walk and the conditions can vary wildly by the seasons. I went there in late winter and then all the rivers in the deep gorges were frozen solid.
Here's what it's like when you can walk on ice in the gorges.
Head WSW over some small hills down and into a valley. Walk along it for a short time until you see an obvious larger valley leading dead W. Walk up to a pass marked by a small cairn decorated with prayer flags. Head down to the bottom of the valley in the S and take a right towards N. There are some nomad's camps further down the valley. The valley turns into a narrow gorge. In some places passage may be difficult due to steep icy places and you have to use crampons and possibly even an axe here. After about 5km of descent you arrive in yet another valley. Take a left towards the south for about 500m. Cross the river when you see a gorge to the east. Follow it upwards. The ice here had formed steps, which sometimes were frozen waterfalls up to 25 meter high. Some of them you have to climb, some can be avoided. The highest I had to climb was about 6m. Continue until the little rivers splits in two. Take a right. After another km the valley flattens out and gets wider. This is an excellent place for BC, about 850m below Pulha Ri's summit.
If you're not content climbing vertical waterfall ice, you may try out the sides of the gorge. Be prepared for steep, tricky scree slopes and objective danger in terms of rock falls. The latter is also of concern when in the gorge itself.
Coordinates for this section will be added on the route page.
Red Tape
You need a visa for China. Easy to pick up in any Chinese embassy. Usually they can issue visas with validity times up to three months. Price varies on your nationality.
The long term visas before available in Hong Kong are now gone. At least this is the case at the time writing (2008 02 03).
Chinese embassies
You also need a Tibet permit.
Reading on the www it can seem as a huge problem to get this permit, but it's not. If you buy a train ticket, you have to get the permit as well and any ticket office/travel agency which can sell you a ticket to Tibet can also sell you the permit. The same applies for airline tickets.
Getting the permit for overland travel with a land cruiser is easy, as the organizing part then takes car of the permit procedure as well.
Be careful about how much you pay for the permit though. It's usually between 350 and 500 Yuan Renminbi (roughly 7 to the US$). Many agencies charge much, much more!
You can also go there without a permit. Most backpackers do and get away with it. The Tibet permit is hardly ever checked inside Tibet. That said, I have heard about a very few cases (2) where travelers without permits got thrown off the train in the city of Golmud, so there's a slight risk.
Coming to Lhasa/Tibet from Nepal other rules apply. You have to be in an organized "group" tour. The group can be only you, but it's still called a group journey. Many Nepalese agencies can arrange the whole deal for you form Kathmandu. Shop around. Prices differs a lot. Also, if you plan to travel from Nepal to Tibet, don't bother to get a Chinese visa beforehand. It'll be canceled in Kathmandu anyway and substituted with a new "special group tour visa".
You also need a climbing permit from the CTMA (Chinese Tibetan Mountaineering association. The peak fee for Pulha Ri is $750. The CTMA office is located in Himalaya Hotel in central Lhasa.
China Tibet Mountaineering Association
No 8 East Linkhor Road
Lhasa, Xizang/Tibet, China
Tel: +86-891- 6333687
fax:+ 86-891- 6336366
e-mail: ctma@public.ls.xz.cn
Mountain conditions
It's a windy area. The wide valley which separates The Lhagoi Kangri range and The Central Himalaya is almost always blasted by hard winds, mostly from the west. The affects the climbing on Pulha Ri, but the good news is that the route described here as well as the most logical approach is on the eastern side. I was not hit by the infamous winds until I entered the higher parts of the ridge.

As mentioned above, penitentes can be found on the slopes and it's always hard to battle your way through meter high formations of these ice pinnacles.

Avalanches may be a concern when the conditions are wrong. The big slopes in the east have a very "good" gradient for avalanches.

The full length of the south ridge is plagued by very well hidden and deep crevasses. In some places there wasn't a slightest hint that anything was hidden underneath the snow. Watch out! This is probably the most dangerous on the peak. The way up to the summit plateau is also crevassed, but the two huge ones up there are easy to spot and climb around.
When to climb
The approach, more than the peak may be of difficulty in the warmer seasons. I would say the peak itself is climbable at all times of the year, but if you shoot for a winter ascent, be sure you have brought all possible gear for extreme high altitude winter mountaineering. The winds can be ferocious and the cold intense. The best times are probably the normal spring (pre-monsoon) and fall (post-monsoon) seasons.
Camping
You can camp anywhere in the area and there's no alternative. Be very careful on the walk-in though. There are usually quite a lot of Tibetan nomads in the area and unfortunately they have a tendency not to let your gear alone. Almost all my stuff was once stolen, still I had taken my tent down and hidden it quite well. There are many sources of water in the area and places with easy access to it isn't a problem to find. Even if the prevailing wind is coming from the west and you probably camp in the eastern valleys, be careful with pitching the tent in a good way as katabatic are strong and common.
Accommodation
Lhasa
Lhasa has hundreds of hotels. Some of the old Tibetan favorites in the center include Tashi Tangkay, Snowlands, Kirey, Banak Shol and Yak. All of these have a good location close to the places you want to visit in Lhasa. A better option than all the above is Phuntsok Khasang, which has clean, cheap rooms for 2$ and up.
A slightly upmarket place which has a good reputation is the silent Eagle Land Guest House just out of the center.
Ask around - there's a place for all tastes and wallets.
Shigatse
The city has a large variety of guest houses and hotels for any budget. One I like is Tenzing Hotel close to the fort. Ask for
Tenzing Binguan
, all taxi drivers know where it is. It offers all kind of rooms for a good price, has friendly staff and nice restaurant.
Lhatze
It's a one street town and that street is lined with all types of hotels. The cheapest is probably "Meteorology Hotel" where a bed goes for Y15/E1.5. Education Hotel (spelled Hostle) has rooms for the same price.
Altitude warning
Arriving in Lhasa (I suppose this will be your first stop in the area) at 3700m directly from sea level is a nasty experience for many people. Relax in the city for a couple of days, drink lots of fluids and don't push it.
A good idea is to hike one of
Lhasa's trekking peaks.
If you feel alright on one of the higher mentioned on that page, you'll be fine heading for Pulha Ri.
The whole area is high and the place where you start walking is at about 5250m. If you arrive here too early you may experience symptoms of AMS or worse.
Gear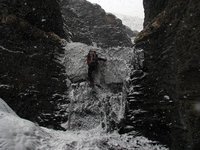 Lhasa
is full of well stocked super markets. By Chinese standards they're amongst the most expensive in the country, but used to western prices the costs are low. For those which every cent matters - try the whole seller shops on the east end of Beijing Dong Lu.
There are some good gear shops in Lhasa. Outlook Outdoor on Beijing Dong Lu is one of the better. On the road where Snowlands Hotel is located leading to Barkor Square there are plenty of shops selling fake stuff. One of China's top brands, Shehe has a shop on North Lingkor Road. Anything from matches to down suits can be found here.
China's other top brand - Ozark has a shop on Beijing, but the employees are doing their absolute best to be super rude and discourage anyone to buy anything.
Shigatse
also has some outdoor shops and the quite new Toread shop has some good clothing. Don't expect much in terms of hardware though.
Maps & guidebooks
There are lots of maps of Lhasa itself and also of Tibet. The ones in the former category are usually good as long as you get an updated copy. Maps of Tibet are usually very bad. They may look nice, but errors are extremely common and plenty. Mostly it's wrong names, wrong altitude, showing non existing roads etc.
Map of central Lhasa.
There are few good guides for the area.
One which deals with general planning for the little bit more seasoned traveler is the
guide book from Trailblazer
.
More specifically for trekking, try
McCue's Trekking Tibet
.
External links
I haven't found anything about the mountain itself on the net.
Great info about high altitude related problems
.
Lhasa travel guide
. Lots of good info about the city and travel in the area.
Travel agency in central Lhasa which is used to deal with unusual mountaineering requests.
.
A traveler's portal for Tibet
.
Wikitravel for Lhasa
.
Wiki about Lhasa
.
Wiki about Tibet
.
Wiki about China
.