Overview
The Lost River Mountains south of Pass Creek consist of several summits over 10,000 feet and two peaks over 11,000 feet. Although easily seen from U.S. Highway 93, they are mostly bypassed and ignored by mountain climbers with loftier goals. From The highway, one gets the impression they can complete the hike with little more effort then a brisk mall walk. However, the Ram's Horn Traverse will reward ridge rats with a wide diversity of spectacular scenery, paid for by a punishing twenty mile scramble over class 3 and 4 terrain.
Click the below image for a detailed view.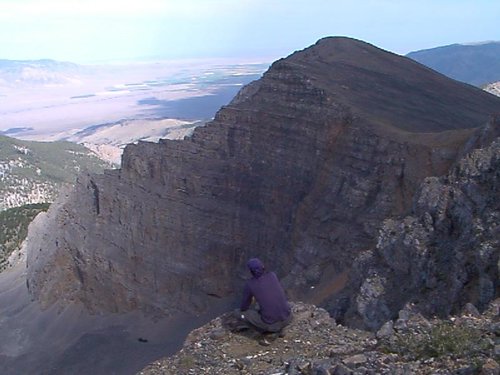 Getting There
From Arco, drive 12 miles north on Highway 93 to the small town of Darlington, turn right on 3700N. and continue to the end of the road.
Click
HERE
for a map to the entrance of Ram's horn Canyon.
Route Description
The hike from the end of the road to Point 9,820' is choked with Juniper trees and Choss. Pick your own way up they're all about the same. From there, scramble 3 miles over sections of easy ridge and difficult arêtes to Rams horn peak. The trick is to follow the unwritten ridge rat rules "stay on the ridge". The top of Rams horn peak culminates at the head of four large canyons. you get a view of Rams horn canyon, Jaggles canyon, Big burnt canyon and Cedarville canyon. The Cedarville amphitheater alone is worth the hike.
The leg from Rams horn to Jaggles peak seems a breeze after the difficulties on the arête. An old triangulation tower (possibly the only one left standing) still clings to the summit of Jaggles.
From Jaggles peak to Point 10,630' stroll for nearly a mile on uncomplicated ridge walking. But from there to South Twin requires more moderate to difficult scrambling and from South Twin to North twin you'll encounter the toughest scrambling of the traverse. Most, like me, will find it necessary to bend ridge rat rules and find a route more conducive to your further existence. Avoid the large buttress by scrambling up onto its east (right)side. This involves a long exposed stretch of class 4 climbing, or easier but still exposed class 3 climbing down lower on the east face. The true ridge is doable but a rope is advised.
North Twin is the highest peak on the route at 11,081 feet. From there the complications are over. Make the longish hike down and then up to Point 10,286'. From there, hike down the open gully on the north side of the point to a jeep trail and large meadow in Elbow canyon. The road is still open for vehicles but you'll need a 4 wheel drive with bad paint and a little clearance to make it as far as the meadow. Or, if yo'ur like me and find yourself 'sans friend', hike another 7.5 miles to Pass Creek road and hitch a ride.
Essential Gear
Although this traverse can be made in one very long day, I recommend giving it two easy days. Your gear depends largely on your style, but the important thing to remember is, if there's no snow, there's no water. Bring plenty! The difficult nature of the arête sections necessitates a light load, leave the tent behind and tough it out with sleeping pad and bivy bag.
External Links
King mountain road less area
This is a short page dedicated to the King mountain area, it has a little more information on canyons and topography.
Tom Lopez
offers a good route description for climbing Jaggles peak.
King Mountain Gliders
There are a few large glider competitions every summer, pick the right time to climb and you be in for a little more entertainment.