Overview
Red Mountain is a mid-elevation and regionally-significant peak located in Skamania County of southwestern Washington. The mountain is a non-technical hiking destination. The peak is appropriately-named, as most of the dirt and rocks on the upper slopes are reddish-colored. In theory, the mountain can be summited year-round if not for periods of snow blocking nearby vehicular access roads during Winter season. With 360-Degree views which are far-reaching, the peak is renowned as having one of the best viewpoints in southwestern Washington.
Historically, for many years until the early 1900s, the meadows below Red Mountain were annual meeting destinations for local Native American tribes. The mountain is adjacent to what was then a tribal trade route which crossed over the Cascade Mountains. The peak and surrounding area became known as a prime berry-picking location for the Yakama Tribe, Klickitat Tribe, and local tribes located near the Columbia River. As a result of this berry history, appropriately named peaks such as Berry Mountain, Big Huckleberry Mountain, and Little Huckleberry Mountain are located within a few miles of Red Mountain.
Local Native American tribes also congregated at and near Red Mountain for a location and event which became known as
Indian Race Track
. Located immediately north of Red Mountain, Indian Race Track is a long flattish meadow area approximately 10' wide and 2000'+ long. This strip of flat meadow terrain was used as a popular location for tribes to race their ponies. Indian Race Track Trail #171 was later created by the U.S. Forest Service as both a way to honor and visit this historical area as well as provide a major access trail for Red Mountain.
Today, Red Mountain is perhaps most popular because of the fire lookout building located on its summit. During 1910, former Forest Supervisor H.O. Stabler wrote a special fire report which stated that Red Mountain was "unquestionably the best lookout point" in the Columbia National Forest (which later became named Gifford Pinchot National Forest). As a result of this declaration, plans and construction began on a summit fire lookout building.
The first fire lookout building on Red Mountain was completed during 1913, a 8' x 8' cedar-frame cab. Six years later, the cedar-frame cab was replaced with a cupola cab type of fire lookout structure. During 1935, the building was replaced by an L-4 cab, and soon afterwards a garage was built below the building. During 1942, the garage was converted to living quarters while the lookout building became an Aircraft Warning Service station during World War II.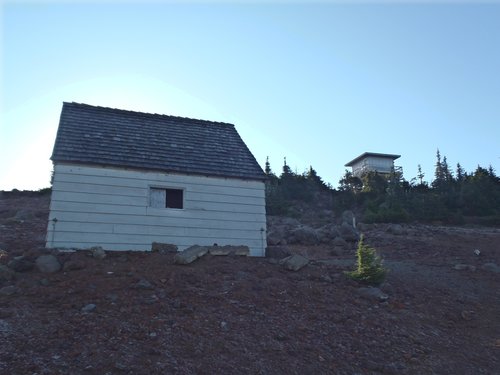 During 1959, the L-4 cab was replaced by a R-6 flat cab with 10' treated timber which still exists at the summit. However, a powerful Winter windstorm during December 2006 blew the roof off of the building and collapsed several walls. There was discussion whether or not to completely remove the building rather than repair it, an action which has been common to many other fire lookouts in Washington. Fortunately, the U.S. Forest Service allowed their national "Passport in Time" program restore the lookout as part of a volunteer (non-funded) effort. During 2010, thirteen volunteers from four states (Washington, Oregon, Idaho, Kansas) spent two weeks completely restoring the fire lookout building as well as the nearby garage.
The current Red Mountain lookout is considered "service ready" but is typically only manned during emergencies. There is discussion within the U.S. Forest Service to add the lookout building to its "Recreation Rental" program in the near future. This would help expand knowledge and interest of the fire lookout and the surrounding region to the general public as well as provide some extra funding to the U.S. Forest Service. The Red Mountain lookout is the only fire lookout still standing in Skamania County.
Red Mountain has far-ranging views. Major volcanoes can be seen on a clear day, including Mount Adams, Mount Saint Helens, Mount Rainier, and Mount Hood.
Due to Red Mountain having unobstructed, wide-ranging views from its upper slopes, the Skamania County Sheriff's Department has also setup radio communication facilities below the summit.
Getting There
STARTING AT INTERSECTION OF HIGHWAY 14 & WIND RIVER ROAD:
1) Turn north onto Wind River Road, heading towards the town of Carson.
2) Follow Wind River Road for 9.3 miles. Then turn right onto Warren Gap Road.
3) Follow Warren Gap Road for 1.8 miles, until its end at a "T" intersection with Forest Road 65. Turn left onto Forest Road 65.
4) Follow Forest Road 65 for 8.2 miles, until reaching a four-way intersection. Turn right (east) onto Forest Road 60, also known as Carson Guler Road.
5) Follow Forest Road 60 for 1.5 miles. Forest Road 6048 appears as a gated road located on the left (north) side of a rightward road-bend of Forest Road 60.
6) Park alongside the road, making certain not to block the gate, road, or any driving lanes. Consider the gate as the "trailhead" for accessing Red Mountain.
NOTE: The gate remains closed and locked, due to past vandalism to the fire lookout and nearby communications structures.
Route
Starting at the road entrance gate (3365' elevation), hike, ride a horse, or bike up Forest Road 6048 to the summit of Red Mountain.
ROUNDTRIP STATISTICS
: 7 miles with approximately 1900' cumulative elevation gain.
------------
Another way to access Red Mountain is from the north, via Indian Race Track Trail #171. The trail intersects Forest Road 6048 at its last major road-bend, approximately 0.5 miles north of the summit.
Red Tape
Public motorized access is prohibited on Forest Road 6048.
Pets, bikes, and horses are allowed.
Do not park in front of the entrance gate for Forest Road 6048.
There are currently no passes or permits required for visiting Red Mountain. However, if accessing via Indian Race Track Trail #171 and/or Indian Heaven Wilderness Area, then a free self-issued Wilderness Permit is required.
When to Climb
Although a non-technical hike can reach the summit, typically deep snowpack during Winter season makes this peak inaccessible.
The optimum timeframe to visit the peak is from late Spring through mid-Autumn.
Camping
No camping is currently allowed on Red Mountain.
The nearest official campsites can be found at Crest Camp and Crest Horse Camp, each located along Forest Road 60 approximately 0.5 miles east of the entrance gate for Red Mountain. Falls Creek Horse Camp is located near the northern trailhead for Indian Race Track Trail #171.